Tackling future issues of concern: new Sustainability in the Built Environment research programme launched
Release Date 05 November 2012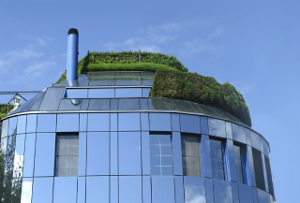 The University of Reading is taking an innovative approach to tackling issues of environmental, economic and social sustainability with an exciting new interdisciplinary research programme.
Funding has already been secured for projects ranging from the use of green roofs and green infrastructure, planning for a sustainable future for transition towns, maintaining secure energy supply and storage, retrofitting cities to 2050, and understanding urban meteorology and its impact on the built environment. Discussions are also underway with a range of funders to develop this growing programme of research around key themes.
Opening the launch event, Pro-Vice Chancellor for Research and Innovation Professor Christine Williams said:
"Sustainability in the Built Environment has long been a strength at the University of Reading. This initiative is important because of the way it pulls expertise from different Schools and Faculties across the University. The emphasis lies on interdisciplinary research directed towards the solution of real-world problems."
Professor Tim Dixon from the School of Construction Management and Engineering, who is leading the initiative, said:
"The built environment is responsible for about 45% of UK carbon emissions, and our cities also face critical challenges in water and waste and resource use. This new research programme, which develops our existing capacity, offers an exciting and fresh opportunity for the University of Reading to build on its industry links and develop new collaborations around key research themes".
This research has been combined into six themes, each one with its own academic "champion":
Planning for sustainability - Mr Joe Doak (Real Estate and Planning)
Designing for resilience - Professor Janet Barlow (Meteorology/TSBE)
Urban green infrastructure - Dr Tijana Blanusa (Agriculture, Policy and Development)
Energy supply systems - Dr Phil Coker (Construction Management and Engineering)
Sustainable behaviours within the community - Dr Rachel McCloy (Psychology)and Dr Marina Della Giusta (Economics)
Promoting sustainable practices - Dr Libby Schweber (Construction Management and Engineering)
The following schools, departments and centres are currently represented:
Agriculture, Policy and Development, Archaeology, Biological Sciences, Chemistry, Construction Management and Engineering, Geography and Environmental Science, Economics, Henley Business School, Human and Environmental Sciences, Mathematics, Meteorology, Psychology, Real Estate and Planning, Systems Engineering, TSBE, Typography & Graphic Communication, Walker.
To find out more and to download a brochure please visit http://www.reading.ac.uk/sustainability-in-the-built-environment/
ENDS
For further information on SustBE contact Stephanie Weller on 0118 378 8587 or email sustbe@reading.ac.uk
For all media enquiries please contact Donna Sibley, University of Reading Press Officer on 0118 378 7388 or by email on d.l.sibley@reading.ac.uk
Follow us on Twitter | Like us on Facebook | Read our research blog 'The Forum'
Notes for editors:
The University of Reading is ranked among the top 1% of universities in the world (THE World University Rankings 2012) and is one of the UK's top research-intensive universities. The University is ranked in the top 20 for the number of awards it received from research councils for 2010/11.