Former Foreign Secretary David Miliband tells Reading students: Leadership change in China more important than in US
Release Date 07 November 2012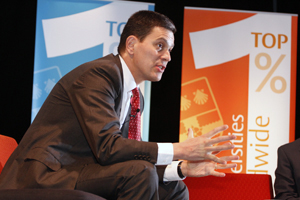 During a visit to the University of Reading today, the Rt Hon David Miliband told Reading students, staff and members of the local community that the change in Chinese political leadership this week would have a greater long-term global impact than the result of the US Presidential election.
During one of a new series of 'in conversation' events which bring influential individuals in public life to meet and talk to Reading students and staff, Mr Miliband, speaking just hours after President Barack Obama was re-elected, said that while attention was currently on America, the future direction of the Communist Party in China would have the biggest effect on Britain.
View photos from the event >>>
"If you asked me, what's the most consequential leadership change in the world for Britain this week, I would say, in the short term, the outcome of the US election, but over a 10-year period the Chinese transition is arguably more consequential," he said.
"The way this new generation of Chinese leaders adapts to the changes in the world is going to have massive consequences for our economy."
In front of an invited audience of University staff, students and members of the local community, Vice-Chancellor of the University of Reading, Sir David Bell, interviewed Mr Miliband about his career, last night's US election result, foreign policy developments, domestic politics and education.
Sir David Bell said: "The visit of David Miliband to Reading the day after the US election demonstrates you don't have to go to the Oxford Union to hear the most influential figures tackling the big global issues of the day.
"This has been a wonderful opportunity for Reading students to hear from and meet a leading figure in British politics, which should help to inspire them as they embark on their own successful careers."
Mr Miliband was also highly critical of the government's actions to tighten immigration controls for foreign students coming to the UK.
"What the UK Border Agency is being asked to do is completely boneheaded and ridiculous," Mr Miliband said.
"We should all be shouting about it very, very loud. I don't think the government wanted to deliberately harm the country, and they are not so stupid that they will steam on with something which is so blatantly idiotic."
Responding to questions from Sir David and students and staff in the audience, the former Labour leadership contender also touched on issues including nuclear proliferation, Syria, and Tony Blair's leadership. While Mr Miliband criticised the coalition's economic record, he praised Prime Minister David Cameron's attitude towards America - while lambasting his stance on Europe.
The wide-ranging interview formed part of a longer visit by the former Foreign Secretary to the University, ranked among the world's top 1%, during which he met students, student representatives and University staff.
ENDS
Follow us Twitter | Like us on Facebook | Watch our videos on YouTube