More government intervention will improve European diet and health
Release Date 08 November 2012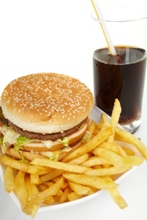 A Europe-wide research project has made a series of key recommendations for governments to help tackle one of the greatest public health challenges of the 21st century, unhealthy diets.
The project, called EATWELL, recommends taxing unhealthy foods and using the revenue raised to promote healthy eating, front-of-pack food labelling, voluntary agreements on salt levels in foods and long-term food information campaigns.
Researchers, led by the University of Reading, analysed 111 national-level interventions throughout EU member states that have been designed to encourage healthier diets to reach their conclusions.
Bruce Traill, Professor of Food Economics at the University of Reading, who led the study, said: "Our research, based on the available evidence, demonstrated that these programmes do, in general, have a positive effect on unhealthy diets.
"Information or education initiatives, such as nutrition labelling, have small but positive effects on healthy eating while policies seeking to change the choices facing consumers by, for example, restricting the availability of less healthy foods or changing relative prices of food through taxes and subsidies, have the potential to bring about substantial changes in food choices. However, these are seen as intrusive by the public and are therefore less likely to be accepted."
The research included fresh analysis of secondary data to determine the effectiveness of individual programmes. It showed, for example, that the UK Food Standards Agency's salt campaign in 2004 resulted in a 10% reduction of salt intake on average in the UK population, with young women demonstrating the biggest behaviour changes towards reduced salt intake. The initiative combined an advertising awareness campaign with working with the food industry to reduce salt in food products.
Similarly, a project analysis of the 5-a-day fruit and vegetables campaign in the UK, which started in 2003 and encouraged the increase in fruit and vegetable consumption through social marketing, found a significant increase in fruit and vegetable intakes between 0.2 and 0.7 portions per day especially in the lower and middle income classes.
The primary recommendations to EU member states to encourage healthier eating, include:-
Taxes aimed at promoting healthier eating and raising revenue for healthy eating programmes. This money should be ring-fenced. The precise form of the tax may vary from country to country and should be informed by careful evaluation of the impacts of recently introduced taxes in Denmark, Finland, France and Hungary, where specific taxes have been introduced on specific foods¹.
Information campaigns are effective and have a small but positive effect on healthy eating. They are relatively cheap and cost-effective. To be more effective, they need to be long-term initiatives.
Restricting advertising of unhealthy foods to children's TV has had only a limited impact and a broader approach encompassing other media may be more effective.
Nutrition education should be a compulsory component of school curricula in all EU countries
Food nutrition labelling should be front-of-pack in a consistent format and positioning
Nutrition labelling should be introduced in food restaurant chains
EU member states should negotiate with food manufacturers, catering and retail industries to introduce a voluntary agreement for salt reduction. These agreements should be extended to saturated fat and sugar and portion size and positive nutrients such as whole grains
EU legislation should be introduced to set a maximum level of artificial trans fats
EATWELL researchers conclude by emphasising that the most important recommendation is that more, and better, evidence of the effectiveness of healthy eating policies needs to be collected, and should be considered as an integral part of all policies.
Professor Traill said: "Although it is too early to be able to fully evaluate the long-term implications, there is enough evidence to make a compelling case for urgent action."
The EATWELL project (Interventions to Promote Healthy Eating Habits: Evaluation and Recommendations) reported its findings at the 5th Annual European Public Health Conference in Malta on 8 November.
ENDS
For more details contact Pete Castle at the University of Reading press office on 0118 378 7391 or p.castle@reading.ac.uk.
¹Denmark, on 1 October 2011 became the first country in the world to tax saturated fats, at the rate of €2.15 per Kg of saturated fat in foods with more than 2.3% saturated fat. From September 1, 2011 the Hungarian government introduced new taxes on various pre-packaged foods with high salt and sugar contents, crisps, salted nuts, chocolates, sweets, biscuits, ice creams and energy drinks. It estimates that the taxes will produce yearly revenues of around €74m and that the money will be used to finance the health-care system. According to the government, the new levy is justified (at least in part) by the fact that those who live unhealthily have to contribute more to support the health system. France has introduced in January 2012 a €7.16 per hectolitre tax on caloric soft drinks, expected to raise €200m per year. Finland reintroduced a sweets tax in January 2011.
EATWELL is an EU FP7 part-funded project running from April 2009 to March 2013. The EATWELL consortium is composed of teams from the University of Reading, University of London (School of Oriental and African Studies), Aarhus University, Ghent University, University of Bologna, The National Institute of Research on Food and Nutrition of Italy, Jagiellonian University Medical College, Kraft Foods R&D, European Association of Communications Agencies (EACA)and the European Food Information Council (EUFIC). Coordinating the project is Professor Bruce Traill of the University of Reading, UK. For more information about the project see www.eatwellproject.eu
The research leading to these results has received funding from the European Union Seventh Framework Programme (FP7/2007-2013) under Grant Agreement No. 226713, EATWELL project.
The full report on healthy eating policy recommendations can be downloaded from www.eatwellproject.eu
Professor Bruce Traill, University of Reading
Bruce Traill is professor of Food Economics at the University of Reading. He has worked for the European Commission and been a consultant to FAO, WHO and OECD. He is presently Chairman of the Board of Rural Business Research (RBR) and President of the Agricultural Economics Society. He was previously a member of the Food Standards Agency Academic Economists Panel and the UK Government's Council of Food Policy Advisors.
Professor Traill has published widely on issues concerning, international trade and competitiveness, food safety economics, obesity, and consumer food choice. He is co-author of a recent book published by Oxford University Press titled Fat Economics: Nutrition, Health and Economic Policy.