Touchscreen technology to help fight malnutrition in older people
Release Date 12 November 2012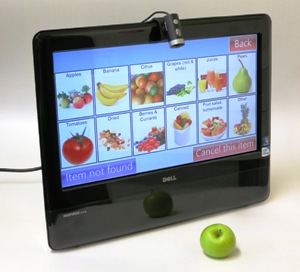 Engineers from the University of Reading have helped to create a touchscreen computer to detect malnutrition in older adults.
The NANA system, which measures what older adults are eating at home and supports research into malnutrition, was showcased at an event at the Houses of Parliament last week (7 November).
Sir Menzies Campbell MP, the former Liberal Democrat leader and campaigner on better care for older people, hosted the reception at Westminster which was co-organised by Dr Faustina Hwang, from the University of Reading's School of Systems Engineering.
Dr Hwang said: "Malnutrition is a major health concern in our ageing population, and has a significant impact on quality of life.
"We've worked closely with older people to develop this system which is both easy to use and provides crucial information to help us better understand the factors affecting malnutrition."
While malnutrition affects all ages, older adults are particularly affected, with 1 in 3 who live independently considered to be at risk1. However, spotting people at risk of malnutrition has been difficult as there was previously no easy way of tracking what people ate and drank in their own homes.
NANA (Novel Assessment of Nutrition and Ageing) is the result of a three-year project to develop a simple and easy to use system for measuring diet, cognition, mood, and physical function. Users - older people - can tell the computer what they're eating and drinking and take pictures of their meals before and after they eat, to keep a record of what they're consuming.
It has been developed by a team of academics from the Universities of St Andrews, Sheffield, Bath and Reading, together with input from 400 older adults across the UK.
Researchers at Reading led the technical design and development of the NANA software, which older adults found easy to use and which provides high quality data for research. Reading was also heavily involved in the development of NANA's custom-made dynamometer, a tool that allows users to measure their own grip strength, providing vital information on their overall health.
Malnutrition is not confined to older people at home. Reports suggest that more than half of hospital patients do not eat the full meal provided and up to 30% of nursing home residents may not finish their lunch2.
The system is already planned to be used by homecare provider Sanctuary Care, which looks after people in their own homes. The group's managing director Steve Wood said NANA would be a 'vital tool' for staff to ensure people in their care were eating well.
ENDS
For more information, or to organise interviews with Dr Hwang or opportunities to see the NANA system in action, please contact Pete Castle at the University of Reading press office on 0118 378 7391 or p.castle@reading.ac.uk.
Notes to editors:
For more images, please contact the press office.
1. BAPEN 2011 survey.
2. "50% of hospital patients do not finish their meal":
Hiesmayr M, Schindler K, Pernicka E, et al. Decreased food intake is a risk factor for mortality in hospitalised patients: the NutritionDay survey 2006. Clin Nutr 2009;28:484-91.
"Up to 30% of residents in nursing homes may not finish their lunch and fail to meet their nutritional requirement":
Valentini L, Schindler K, Schlaffer R, et al. The first NutritionDay in nursing homes: participation may improve malnutrition awareness. Clin Nutr 2009;28:109-16.
The University of Reading is ranked among the top 1% of universities in the world (THE World University Rankings 2012) and is one of the top 20 UK universities by government research funding.
The School of Systems Engineering at the University of Reading brings together a unique mix of expertise in information technology, computer science, cybernetics and electronic engineering. Its research groups maintain worldwide reputations for work in a range of computing and engineering specialties and seek collaborations to apply its work to aspects of Security, Health Technology, Digital Society, and Energy and Environment. The School offers undergraduate degree courses in four key discipline areas and specialist courses in Artificial Intelligence and Robotics.