University hosts 100 world-leading businesses at careers fair
Release Date 15 November 2012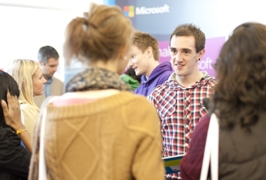 The University of Reading's annual Careers and Placement Fair attracted 100 companies - the most ever - including many world-leaders from industries including science, food, agriculture, research, business, finance, engineering, IT, computing and software design, teaching, creative, culture, leisure and volunteering.
More than 2,100 students took the opportunity to meet representatives from local, national and international businesses including PwC, AkzoNobel, Associated British Food, Cancer Research UK, Danone, Deloitte, Ernst and Young, Foster Wheeler Energy Ltd, GE General Electric, HP, Microsoft, IBM, Jaguar Land Rover, John Deere Ltd, Logica, Network Rail, Renault UK, Royal Airforce, Co-operative Group and Urban Science
Professor Jennifer Ghandhi, Director of Student, Learning and Teaching Services, said: "We have been delighted by the popularity of our Careers and Placement Fair amongst recruiters - once again proving that employers are specifically looking to recruit University of Reading students.
"Reasons we are targeted include our dedicated employability provision which starts at an early stage with our Career Learning programme which provides timetabled space to shape career decisions. Added to this, every course now has a placement option available to undergraduate students, providing flexible opportunities for students to gain real world experience. Finally, the Reading Experience and Development (RED) Award formally recognises and rewards extra-curricular work experience, volunteering, casual work and self-development - showing employers that our students are investing time in their own development - and that the University supports them in doing this."
PwC, Sponsors of the University of Reading Careers and Placement Fair 2012 said: "We've recruited a high number of students from University of Reading and we're keen to continue our relationship to help us attract students from a wide variety of degree backgrounds. We look for students that demonstrate strong employability skills and the passion to work with us."
Gerry Wyatt of graduate-jobs.com said the careers fair was "probably the best graduate fair we have attended in the region during the autumn season. The graduates we spoke to were informed and keen."
The University also held a stand-alone Law Careers Fair. Kevin Thompson, Senior Careers Adviser said: "This was a hugely successful event featuring a range of law firms - from multinationals such as Clifford Chance and Freshfields Bruckhaus Deringer to regional firms such as Blandy & Blandy and Boyes Turner. The event was attended by the majority of students from the School of Law, as well as a number for students from a range of other degree disciplines - highlighting the popularity of law as a career destination. "
Recently ranked in the top 1% of universities in the world, the University of Reading continues to buck the national trend with its positive employment figures with its record for graduate employability well above the national average with over 92% of its graduates describing themselves as being in work, voluntary or unpaid work or further study, and 70% in graduate level employment.
A fifth of University of Reading graduates are likely to stay on in Reading and the surrounding area, bringing new skills to the region's economy. Already, 19,000 Reading graduates live in RG postcodes, many of whom play leading roles in the private, public and voluntary sectors.