University of Reading launches new scheme to modernise IT teaching in schools
Release Date 15 November 2012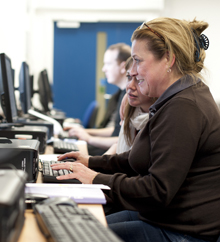 The University of Reading has launched a nationwide project that aims to meet the growing need for computer science teachers in schools.
On Friday 9 November, over 70 participants from schools, higher education institutions and organisations took part in workshops designed to give them innovative ideas for introducing key computing concepts in the classroom.
The conference was in response to the Rt Hon Michael Gove MP's, Secretary of State for Education, announcement of major changes to the existing ICT curriculum, including the formal introduction of computer science in schools. The changes aim to better prepare young people for progression into further education and a professional career.
For example, beyond digital literacy skills in word-processing and presentations, more emphasis will be put on pupils understanding the design, organisation and application of computers in society, business and the arts. Pupils will also learn the basics of computer programming and skills needed for creating apps for smart phones or developing interactive computer games.
Mr David Stephenson, a computer teacher from Highdown School in Reading, said: "I took 3-4 lessons out of a single hour that I can use from Key Stage 3 to Key Stage 5. This is what continuing professional development should be all about."
Participants were also inspired by guest speakers at the forefront of digital literacy, computer art and education.
Emma Spreadbury, Head of Key Stage 4 Digital Technology at King Alfred's Academy in Wantage, added: "The day was a fantastic opportunity to inform our practice in creative and interdisciplinary ways. It was really helpful to learn more about the underlying principles of computing and develop a secure foundation of what we teach."
The conference was the first event stemming from a new Network of Excellence set-up by Computing at School (CAS) and BCS, The Chartered Institute for IT, in response to Mr Gove's reforms. The network aims to equip new and experienced teachers, as well as trainee teachers, with the skills needed to deliver computer science in the classroom.
Over 500 schools and 17 universities have registered their interest in the network which will co-ordinate and provide training opportunities for existing teachers and trainee teachers. The Network is supported by the Department for Education, OCR, CPHC, Microsoft and Google.
Dr James Anderson, Lecturer in the University's School of Systems Engineering, said: "The University of Reading's renowned School of Systems Engineering and Institute of Education, one of the leading teacher trainers in the country, means Reading is best placed to spearhead this important initiative. There is no doubt that the previous ICT curriculum needed improvement. Pupils need the skills of computer science and algorithmic thinking to give them the best chance of successful careers in every area of modern life."

A particular focus for the conference was sharing ideas on how more female students can be attracted to take computer science and more male students to take art and design as a Key Stage 4 option.
Dr Yota Dimitriadi, from the University's Institute of Education, added: "Industry leaders and educators need to further promote computer science in school and address stereotypes relating to public representations and career pathways in IT. The aim of the day was to explore the creative and imaginative side of computing in order to attract more female students to computer science, and to encourage more male students to study art and design at degree level."
The Computer Science through Art Conference formed part of the Economic and Social Research Council's Festival of Social Sciences.

ENDS
For all media enquiries please contact James Barr, University of Reading Press Officer on 0118 378 7115 or by email on j.w.barr@reading.ac.uk
Follow us on Twitter | Like us on Facebook | Read our research blog 'The Forum'
Notes to Editors

The University of Reading is ranked among the top 1% of universities in the world (THE World University Rankings 2012) and is one of the UK's top research-intensive universities. The University is ranked in the top 20 for the number of awards it received from research councils for 2010/11.

The School of Systems Engineering at the University of Reading brings together a mix of expertise in information technology, computer science, cybernetics and electronic engineering. Its research groups maintain worldwide reputations for theoretical and applied research in a wide range of computing and engineering specialities and seek collaborations that allow it to apply their understanding to aspects of security, health technology, digital society, and energy and environment.

The University of Reading's Institute of Education is a major provider of teachers nationally and regionally, offering PGCE Secondary and Primary, BA (Ed) and the Graduate Teacher Programmes (GTP). The secondary programme and the primary programme have both received the top Ofsted grades in 2006/7 and the Institute is now a category 'A' provider for all our courses. The employment rates of our graduates are the highest in the University and the best in the country of any initial teacher trainer provider.