Evolution and Humanity - What Next? Listen to Professor Mark Pagal's lecture at Radio 3 Free Thinking Festival.
Release Date 19 November 2012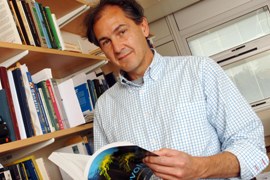 Evolution and Humanity - What Next?
Professor Mark Pagel, Head of the Evolution Laboratory at the University of Reading gives a provocative lecture at the Radio 3 Free Thinking Festival.
Why have humans evolved to speak so many mutually incomprehensible languages? Why do we work against our own survival by going to war with one another?
Pagal argues that despite today's incredible cultural diversity, humanity has been steadily evolving from small tribes to huge nation states.
Currently 7,000 distinct languages are spoken around the world, but just 10 languages dominate 40-50% of all speech in the world. As the majority languages nibble away at minority languages, are we moving towards a unified world of one language and one state?
Would this homogenisation be such a bad thing?
In this thought provoking lecture, Professor Pagel argues that humans are hardwired for co-operation, not confrontation.
The event is chaired by Night Waves presenter Rana Mitter and recorded as part of Radio 3's Free Thinking Festival 2012.
Listen or download the lecture http://www.bbc.co.uk/programmes/b01nt2z0