New sponsorship for University's elite rowing club
Release Date 22 November 2012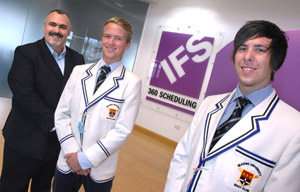 The University of Reading's internationally renowned Boat Club (RUBC) has received sponsorship which will boost the top-class facilities enjoyed by its members.
The generous donation was made by IFS 360 Scheduling, the world's leading supplier of real-time mobile workforce scheduling and optimisation software. Their new sponsorship will enable RUBC to purchase additional state-of-the-art equipment and support its ever growing number of active members.
Reading is one of the top UK universities for rowing. In the London 2012 Olympic Games seven alumni and three current students represented Team GB in the rowing, the highest number from any UK university, with two members striking gold.
Will Rand, Director of Rowing at the University, said: "We are extremely proud of our long-standing history of training elite athletes, many of whom go on to compete at Olympic level. Our new connection with IFS 360 Scheduling means that RUBC can continue to provide the very best experience for the students and alumni who train with us, while encouraging more people to join our crew and aspire to race at the highest possible level."
News of this partnership comes at a significant time for the Boat Club. In 2009, RUBC launched its 2012 fundraising campaign, in which members aimed to raise £150,000 to purchase new equipment ahead of the London Olympics. The new agreement with IFS 360 Scheduling - combined with the generosity of former RUBC members, alumni, sponsors and friends over the last three years- means that the Boat Club has completed the 2012 campaign on a high, having raised funds in excess of £160,000 to support current and prospective rowing students.
Will Rand added: "We have been overwhelmed by the kindness people have shown throughout our 2012 fundraising campaign and would like to take the opportunity to thank everyone who has supported us. We look forward to continuing our fundraising campaigns into 2013 and beyond."
Speaking of the company's decision to sponsor the Boat Club, Managing Director of IFS 360 Scheduling, Laurent Othacéhé, said: "We are thrilled to be associated with Reading University Boat Club. Both organisations share a common ambition to be world-class at what they do. It requires belief, investment and great teamwork - plus an unswerving focus and dedication to meet challenging goals."
To make a donation to the Boat Club, and to find out more about its activities, please email annualfund@reading.ac.uk
ENDS
IFS 360 Scheduling is a product of IFS, the global enterprise software company. IFS is a public company (OMX STO: IFS) founded in 1983 that develops, supplies, and implements IFS ApplicationsTM, a component-based extended Enterprise Resource Planning suite built on SOA technology. IFS focuses on industries where any of four core processes are strategic: Service & asset management, manufacturing, supply chain and projects. The company has 2,000 customers and is present in approximately 60 countries with 2,800 employees in total. Net revenue in 2011 was SKr 2.6 billion.
More information on IFS is available at www.IFSWORLD.com