University Model United Nations Club carries off the honours ahead of hosting conference
Release Date 28 November 2012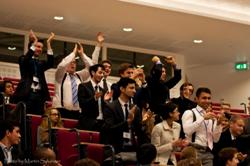 The University of Reading Model United Nations (MUN) Society was the major winner at the Nottingham International MUN conference last weekend, bringing home a total of 13 awards as well as the Best Large Delegation Award.
The club/society was able to beat off competition from the other universities attending, including Oxford, Cambridge, Durham, UCL and LSE.
Daniel Sawko, President of the Society, said: "This is a fantastic achievement for our club! Compared to other universities on the conference circuit, Reading is a relative newcomer, having only been founded a few years ago.
"I'm very proud of each individual for their award, especially considering many of them were first timers at a conference. It is a real testament to the methods and practises employed in our weekly sessions and says a lot about the atmosphere of unity that the club can bring."
The club holds weekly mock United Nations simulations that often mirror what the UN itself is discussing in order to give the budding diplomats a chance to research the topic and reflect their countries position.
Ed Hopkins, 3rd Year Politics and International Relations student, said: "The conference was my first ever Model United Nations conference. It certainly won't be my last. Throughout the weekend I enjoyed engaging with other delegates and debating complex issues at length until a resolution was reached. I look forward to the next conference and hope to pick up another 'best delegate' award."
Reading Model United Nations society is hosting its first ever conference this weekend (30 November) and there has been a great deal of interest from both other UK Universities as well as international Institutions. Guest speakers include Sir John Holmes, a former British Diplomat and Under-Secretary General of the United Nations and Detta Reagan, whose international charity work led to her Nobel Peace prize nomination.
"We're very excited about welcoming delegates to our first ever conference," said Daniel Beitler, the Secretary-General of the conference. "This is a chance for Reading to showcase its university and students to visiting delegates from both the UK and internationally. I became involved in Model United Nations because it allowed me to develop my speaking and research skills, whilst meeting others with a similar passion."
For further information visit the website on http://www.rumun.org/