Students are just the job for local business success
Release Date 03 October 2012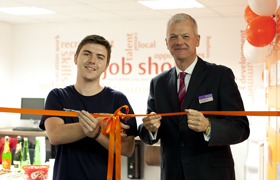 Looking for talented people to fill your part-time vacancies? The University of Reading's new Job Shop is the place for local companies to source skilled and committed employees who will boost their business.
University of Reading students boast a wide range of skills, from IT expertise and languages to catering and retail experience and it is now even easier to harness these skills.
Em Sowden, Senior Placement and Development Manager at the University, said: "In these tough economic times, businesses need highly-skilled, motivated employees who can be relied upon to get the job done. Our Job Shop offers companies access to a large pool of talent, who are flexible and have an appetite for a wide range of part-time jobs and paid internships.
"We have been running a hugely successful online Job Shop for the last 12 years, but in response to student demand we're delighted to have opened a physical shop' based in our students' union building. This will mean increased awareness of this service and greater exposure for companies with job opportunities as students can view vacancies in the window, as well as receive expert CV and interview advice from careers staff.
"Equally, work experience has never been more crucial for students, with high importance being placed on transferable skills in the graduate workplace. It's initiatives like these that help make Reading students some of the most employable in the country1. When students come to Reading to study they are also keen to get involved with community life, and working locally is another great way for them to integrate and contribute to the town."
The Job Shop was officially opened for business by the University's Vice-Chancellor Sir David Bell and Students' Union President James Fletcher on Monday 1 October.
To list a vacancy in the Job Shop and online email jobshop@reading.ac.uk or visit http://www.reading.ac.uk/careers/employer/.
The Job Shop is open Monday to Friday, 10.00am - 4.00pm.
View more photos of the Job Shop >>>
1In 2012, 92% of our graduates described themselves as being in work, voluntary or unpaid work or further study.
ENDS
Follow us on Twitter|Like us on Facebook|Read our research blog 'The Forum'
Notes for editors:
The Careers, Placement and ExperienceCentreis dedicated to enhancing and promoting the employability, careers and educational prospects of Reading students to help them achieve their goals. There are a huge range of opportunities available to current students and recent graduates, from work and volunteering placements, to careers workshops and recruitment fairs, to help students make the most out of their time at Reading and give them the best possible start in their careers.