Reading team at forefront of autism research
Release Date 03 October 2012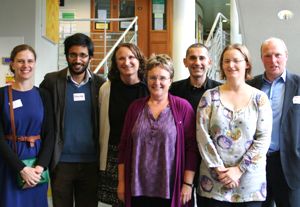 A team of scientists, doctors and educational researchers met at the University of Reading last week for the launch of a regional network for autism.
The Berkshire Autism Research Network (BARN) met for the first time on Friday last week (September 28) at the University of Reading to talk about new ways to help people with autism and research how it affects them and can be treated.
Dr Bhismadev Chakrabarti, assistant professor at the Centre for Integrative Neuroscience and Neurodynamics (CINN) at the University of Reading, organised the event.
He said: "Autism is a lifelong brain condition that affects people's ability to communicate with and relate to other people and can have serious impact on people with the condition and their families.
"As well as finding new ways to understand and treat autism, the network will help to inform people with autism spectrum disorders and Asperger syndrome, to hear about and take part in the latest research projects."
The event was attended by more than 100 clinicians, teachers, and individuals with autism and their families. It is hoped that BARN will provide a regular platform for researchers to interact with professionals and individuals with autism.
Among other activities at the three-hour launch event was a keynote speech by Professor Simon Baron-Cohen, director of the Autism Research Centre at Cambridge University.
Research currently taking place at the University of Reading into autism has diverse strands that includes studies of brain structure and function using high-definition MRI brain scans, studies into diet and health in autism, as well as educational and therapeutic research to see how methods of teaching and therapy can be improved.
Organisers still want to get in touch with more people living with autism spectrum conditions who want to connect with the network. If you are an adult with an autism spectrum diagnosis, and are interested in taking part in research, please get in touch. Find out more >>>
For more information about BARN and to take part in ongoing research, visit the group's website.
ENDS
For more information contact Pete Castle at the University of Reading press office on 0118 378 7391 or p.castle@reading.ac.uk.
Follow us on Twitter | Like us on Facebook | Read our research blog 'The Forum'
Notes to editors:
The Centre for Integrative Neuroscience and Neurodynamics (CINN) at the University of Reading builds upon existing interdisciplinary research into the working of the brain, involving collaborations with scientists in Psychology, Pharmacy, Mathematics, Chemistry, Biology, Cybernetics and Clinical Language Sciences. CINN occupies a dedicated wing and houses a research-dedicated MRI scanner and high-density EEG laboratory. Researchers at CINN collaborate extensively with NHS clinical units based at the University of Reading.
The University of Reading is among the top 1% of universities in the world (THE World University Rankings 2011-12) and among the top 20 research universities in the UK by research council funding.