BBC's Dick and Dom in da lab at the University of Reading
Release Date 12 October 2012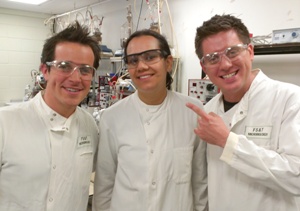 Children's TV presenters Dick and Dom - famed for their Saturday morning kids' show Dick and Dom in Da Bungalow - visited the University of Reading last week to film part of a new TV science show.
The on-screen duo - real names Richard McCourt and Dominic Wood - visited the Department of Food and Nutritional Sciences to meet microbiologist Dr Gemma Walton and learn about bowel functions and gut bacteria, and how bad bacteria can affect your health.
The pair were filmed visiting Dr Walton in the University's world-leading gut models lab, which creates experimental models of the human gut, before looking at microbes under the microscope and learning how poor hygiene can spread bacteria and cause diseases.
The footage from their visit will form part of a new series called Dick and Dom's Genius Idea, a science programme aimed at children aged eight to 12. The series is set to be broadcast on the CBBC channel early in 2013.
ENDS
For more details contact Pete Castle at the University of Reading press office on 0118 378 7391 or p.castle@reading.ac.uk.
Notes to editors:
The University of Reading's Department of Food and Nutritional Sciences is the largest university department of its kind in the UK, combining state of the art teaching facilities, clinical nutrition unit, labs and the largest pilot processing plant in the UK. The department is internationally recognised for the quality of its research and enjoys a high public profile worldwide as a leading centre for research and teaching.
The University of Reading is ranked among the top 1% of universities in the world (THE World University Rankings 2012) and is among the top 20 UK institutions by research funding.