University of Reading leading the fight for food security
Release Date 16 October 2012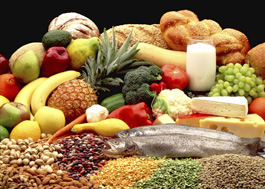 Food security is one of the most important challenges facing the world today. The University of Reading is a world-leader in food security research and training with expertise across the whole food chain, from soil through food production and processing, to dietary health.
Watch a video that explains the vital research being conducted at the University of Reading's Centre for Food Security
As the Food and Agriculture Organisation of the United Nations celebrates World Food Day (Tuesday 16 October), University of Reading experts discuss some of the issues and possible solutions to meeting the UK and global demand for food.
Professor Richard Tiffin, Director of the University of Reading's Centre for Food Security
Combining the old with the new is the recipe for global food security - Read Professor Tiffin's blog
"The present debate around how best to meet the global demand for food has a tendency to polarise into two camps. First there are those who argue that the food system is broken and what is required is a return to more 'traditional' ways in which food is produced on labour intensive small farms and distributed locally.
"In the opposite corner are technologists who argue that the only way that we will be able to meet the predicted increase in demand for food of between fifty and one hundred per cent is to continue the process of intensification that characterised the development of agriculture during the twentieth century. Instead of this polarisation however perhaps some cross fertilisation is necessary.
"There are some encouraging signs that a middle way may become our focus. The concept of sustainable intensification is on the agenda. This recognises that we must not stop the search for new ways of producing food but that we should do so in ways which work with nature rather than in a box apart from it. We should learn from our traditions but not harp back to them. By 2050 there will be 2bn more people in the world, 1.9bn of whom will be in developing countries. We owe it to them."
Dr Alison Bailey, School of Agriculture, Policy and Development and Walker Institute Associate
Co-operation between farms, business and industry sectors needed for vital change in approach
"Farmers in England are rising to the challenge of increasing yields whilst reducing inputs and environmental impact. Future fresh water availability is crucial in enabling them to meet this important challenge. However climate change presents a serious risk of diminished availability of water for UK agriculture and horticulture, providing a major challenge to farmers, researchers, plant breeders and policy makers. Those operating farm and horticultural businesses need to take on board the impending changes. The magnitude, frequency and timing of droughts and flooding may change so the implications and the need to develop options for adaption to these changes must be recognised now.
"It is important to recognise that a combination of different options, rather than one single approach, will be necessary to address climate change impacts. This requires a change in approach to adapting at the farm level which must be driven by policy and related guidance. Farms need to pool their resources and it will require co-operation between business and across industry sectors. Research into water availability and its use on farms should be given high priority."
Dr Carol Wagstaff, Department of Food and Nutritional Sciences
Higher prices should force UK to tackle food waste
"A recent spike in food prices in the UK is putting the squeeze on household budgets but more than a third of the food we buy still ends up in the bin.
"To see around one third of all food produced going straight in the bin seems like an incredible waste, but it is linked to the cheap availability of food. If price rises continue, consumers will be motivated to do more with what they have. We can all learn from previous generations, who were past masters at using up leftovers and shopping exactly to the needs of their families, but increasingly we need education to regain these essential skills.
"However producers also have a part to play. If we can improve the varieties of crops, methods of post-harvest handling, and improve processing of food to give a longer shelf life, this will also help to reduce waste."