New Reading student accommodation opens to keep ahead of the competition
Release Date 04 September 2012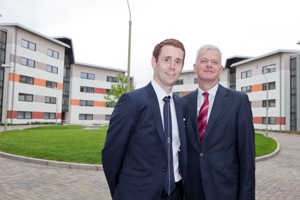 The University of Reading officially opened its brand new student accommodation on Tuesday 4 September, continuing the integrated community approach to student accommodation within the Whiteknights parkland setting.
View photos from the opening event >>>
The new accommodation, which comprises almost 900 new student bedrooms at the new Childs Hall and Stenton Townhouses, was formally opened by Jonty Clarke, a member of Team GB's Olympic men's hockey team and a former resident of the old Childs Hall while he was studying economics at the University of Reading (he graduated in 2002).
The new accommodation, which has replaced the fondly remembered but ageing 1960s-built Childs Hall, forms part of the offering to students for this coming academic year, and will be managed and operated by the University's accommodation partners, University Partnerships Programme (UPP).
Sir David Bell, Vice-Chancellor of the University of Reading, said: "This year, more than ever, with the introduction of higher tuition fees, universities will need to be on their mettle to ensure they provide the highest quality student experience. While it is the challenging academic standards and excellence in teaching at Reading that first grabs the interest of our future students, we know that providing facilities appropriate to our world-class standing and international reputation is also hugely important.
"With the opening of these wonderful new student residences, which are already completed booked up for 2012/13, we will have completed over 1800 new bedrooms in the past two years, ensuring we offer accommodation to students, which is second to none."
The £30 million construction project has created 594 bedrooms in new Childs Hall, providing bright, comfortable self-catering accommodation in modern well-appointed buildings. In addition, an exciting new arrangement offered will be a townhouse option whereby accommodation is available in an atmosphere of communal living. The 25 townhouses each boast 12 study bedrooms arranged over 3 floors with a modern, spacious shared kitchen/dining and lounge area on the ground floor.
Both developments are part of the Park group of student accommodation, and are within easy walking distance of Park Eat and Park Lounge, located on the edge of Whiteknights campus, and just a short walk to academic buildings.
Construction, cladding and landscaping will reflect the style of phase one of the University's halls project, which was completed in 2010. All of the new accommodation will achieve the BREAM environmental standard of 'excellent'.
Completion of phase two of the University's accommodation development project concentrates the University's accommodation on Whiteknights, now that Sibly and Bulmershe Halls are no longer operational.
The new accommodation blocks are named after WM Childs, the University's first Vice-Chancellor (1926-29), and Sir Frank Stenton, the University's third Vice Chancellor (1946-50). The names for each block also continue the Berkshire village theme.
Morgan Sindall is the University's construction partner in the development project.
Find out more about accommodation at Reading >>>