A better understanding of bilingualism is vital for global communication and interaction
Release Date 10 September 2012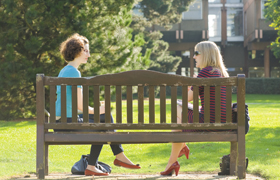 The way in which people who speak two languages think, communicate and make sense of the world and the differences with monolingual speakers is the subject of a major conference at the University of Reading from 12-15 September.
The majority of the world's population use more than one language in order to communicate. In the UK, there are an increasing number of children who are growing up with more than one language, a fact that is, for example, changing the face of education in the UK.
Jeanine Treffers-Daller, Professor of Second Language Education at the University of Reading's Institute of Education, is one of the convenors of the conference. "With the growing prevalence of bilingualism, understanding how people who speak two or more languages see the world and how their approach and use of language differs from monolingual people is becoming increasingly important.
"Research shows that bilingualism often brings considerable advantages in life - bilingual children often tend to have more developed reading skills and are more adept at learning other languages than monolingual children. They also tend to perform better at multitasking and have a greater cultural awareness than single language speakers. A better understanding of the differences will be of huge value to our society and is something that is of particular interest to, for example, schools and governments.
"At our conference, experts from around the world, including Reading's own Centre for Multilingualism and Literacy, will be presenting research on the way different brains and languages see and describe colour, how different languages define movement and how gestures that accompany speech can differ between bilingual and monolingual speakers."
It is well known that languages carve up reality in different ways. Colour terms, for example, are different in the languages of the world: what is blue to a speaker of English, is not simply blue for speakers of Greek and Turkish because their languages distinguish between two kinds of blue. It then becomes interesting to investigate what happens in the mind of a Greek-English bilingual who has to juggle two different colour term systems.
There are also differences between native speakers and language learners in how they talk about movement through space. While English has a wide variety of manner of expressions for manner of movement (hop, stride, waddle, creep, swagger, traipse etc), speakers of French have far fewer of those verbs and use them sparingly. Learners find it hard to understand how to change the way they talk about motion when they learn a foreign language. British learners of French use far too many manner of motion verbs when speaking French, because that's how they talk about motion in their first language.
Eighteen international experts from nine different countries explore this fascinating question during a three-day multidisciplinary workshop, which is sponsored by the European Science Foundation and hosted by the Centre for Multilingualism and Literacy at the University of Reading.
ENDS
Follow us on Twitter | Like us on Facebook | Read our research blog 'The Forum'
Notes to editors:
Raising bilingual children is one of the key research areas of the University of Reading's Centre for Multilingualism and Literacy.
The European Science Foundation is an association of 80 Member organisations devoted to scientific research in 30 European countries. It exists to provide a common platform for its members Organisations in order to advance European research and to explore new directions of research at the European level.