Super-family tree finds flora that fights disease
Release Date 11 September 2012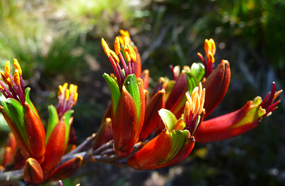 New research from the University of Reading, The Royal Botanic Gardens, Kew and Imperial College London published on 10 September in the Proceedings of the National Academy of Sciences of the United States of America (PNAS) could allow biopharmaceutical companies to distinguish groups of plants most likely to be beneficial to our health.
Throughout history plants have been used for their medicinal properties. According to the World Health Organisation approximately 25% of medicines are plant-derived and many pharmaceutical drugs are derived from plants that were first used in traditional systems of medicine, including drugs used in the treatment of breast cancer and heart disease.
As plant populations are decimated by changing land use, climate change and over exploitation, identifying the species most likely to contribute to future health needs could hardly be more urgent or significant. But with tens of thousands of species used by different cultures, identifying those likely to be of benefit is a time consuming and expensive process.
By studying and recording over 1,500 medicinal plants reported to have health benefits in three continents, the researchers created a family tree of plant species for each area, demonstrating how medicinal plants relate to each other. They then combined the trees to create a 'super' family tree representing 20,000 species to reveal which medicinal plants from different areas were related.
The results were extraordinary. Not only did the researchers find examples of very closely related plants being used as medicines in different parts of the world, they also discovered they were being used to treat the same ailments. Furthermore, they found that many modern day drugs come from these groups of closely related plants.
This study, the first of its kind, could enhance the success rate of companies involved in bio-prospecting, the search for new, economically-valuable biological products. Plants have a vital role to play medically. Paclitaxel, which is used as a treatment for breast cancer, derives from yew trees, while foxgloves contain a key ingredient used in cardiotonics which treat heart failure.
Dr Julie Hawkins, from the University's School of Biological Sciences, said: "Our study examined plants known to be used medicinally in Nepal, New Zealand and the Cape of South Africa, areas unlikely to have exchanged information about medicinal properties of plants so would be using these plants after discovering them independently. We found that plants known to be useful in all three separate regions were from groups that were closely related.
"Across the whole of the super tree we found many groups of related plants that had been independently discovered. One example is that plants from the soapberry family are used in Nepal, the Cape of South Africa and New Zealand to treat gastro-intestinal problems. It seems these treatments, using closely related plants, have been independently discovered. Additionally, the study showed that other closely related plants that are not used by traditional medicine in these regions, such as maple or lychee trees, could also have medicinal properties.
"Our super tree will help companies involved in bioprospecting narrow their search for plants with medicinal properties which could lead to new disease fighting drugs." continued Dr Hawkins. "It's incredibly exciting to think that communities around the world that weren't in contact with each other have sampled related plants and are using them to treat the same things."
Co-author of the study, Professor Vincent Savolainen from the Department of Life Sciences at Imperial College London, and RBG Kew, said: "This super family tree of medicinal plants will help create new opportunities to make modern medicines from the active ingredients in traditional medical treatments. I strongly urge biomedical scientists to use our study to speed up their search for innovative new medicines, but in doing so they have to fulfil a duty to the people who discovered the beneficial effects of such traditional medicines.
"Many have signed up to the International Convention on Biological Diversity, which requires individuals and companies to acknowledge the origins of their discoveries. Now, more should be done to follow this through, for example by sharing the financial benefits of a commercialised drug, or involving traditional practitioners in the development of modern medical treatments in their countries of origin."
Dr Haris Saslis-Lagoudakis, who contributed to this research as part of his PhD thesis, said: "Traditional medicine has been neglected in recent years in research on the discovery of new medicinal plants and pharmaceutical drugs. It is fascinating to demonstrate that traditional knowledge that has been compiled through centuries by local communities around the globe could hold the key to curing modern-day diseases."
Phylogenies reveal predictive power of traditional medicine in bioprospecting - was funded by a John Spedan Lewis Fellowship and is published today in PNAS (Proceedings of the National Academy of Sciences).
For media registered with EurekaAlert, PNAS have made the paper available under embargo at http://www.eurekalert.org/jrnls/pnas/12-02242.htm
ENDS
Media enquiries for Dr Julie Hawkins, please contact University of Reading Press Office on 0118 378 7115 or by email on media@reading.ac.uk.
Media enquiries for Professor Vincent Savolainen, please contact Simon Levey, Research Media Officer at Imperial College London on 020 7594 6702 or by email on s.levey@imperial.ac.uk
Notes for editors:
Images are available. Captions:
Pseudowintera colorata, a plant species used medicinally in New Zealand. Pseudowintera species are used traditionally by Māori people to treat skin conditions, respiratory problems, and to help heal wounds. Photography courtesy of Steven Wagstaff, Manaaki Whenua Landcare Research, Lincoln, New Zealand.
The medicinal New Zealand flax (Phormium sp.). Phormium species are used traditionally by Māori people, who call them harakeke and wharariki, to treat a wide range of conditions, including skin, respiratory and gastro-intestinal problems. Photography courtesy of Andrew Clarke, University of Warwick, United Kingdom.
About Imperial College London
Consistently rated amongst the world's best universities, Imperial College London is a science-based institution with a reputation for excellence in teaching and research that attracts 14,000 students and 6,000 staff of the highest international quality. Innovative research at the College explores the interface between science, medicine, engineering and business, delivering practical solutions that improve quality of life and the environment - underpinned by a dynamic enterprise culture.
Website: www.imperial.ac.uk
Twitter: www.twitter.com/imperialspark
Podcast: www.imperial.ac.uk/media/podcasts
About Royal Botanic Gardens Kew
Royal Botanic Gardens Kew is a world famous scientific organisation, internationally respected for its outstanding living collection of plants and world-class Herbarium as well as its scientific expertise in plant diversity, conservation and sustainable development in the UK and around the world. Kew Gardens is a major international visitor attraction. Its landscaped 132 hectares and RBG Kew's country estate, Wakehurst Place, attract nearly 2 million visitors every year. Kew was made a UNESCO World Heritage Site in July 2003 and celebrated its 250th anniversary in 2009. Wakehurst Place is home to Kew's Millennium Seed Bank, the largest wild plant seed bank in the world. RBG Kew and its partners have collected and conserved seed from 10 per cent of the world's wild flowering plant species (c.30, 000 species). The aim is to conserve 25% by 2020, and its enormous potential for future conservation can only be fulfilled with the support of the public and other funders.
Kew receives funding from the UK Government through Defra for approximately half of its income and is also reliant on support from other sources. Without the voluntary monies raised through membership, donations and grants, Kew would have to significantly scale back activities at a time when, as environmental challenges become ever more acute, its resources and expertise are needed in the world more than ever. Kew needs to raise significant funds both in the UK and overseas. Members of the public can support the work of the Millennium Seed Bank Partnership by getting involved with the 'Adopt a Seed, Save a Species' campaign. For £25 an individual can adopt a seed or for £1000 anyone can save an entire species.www.kew.org/adoptaseed.
For any media enquiries relating to RBG, Kew, please contact the press office on pr@kew.org / 0208 332 5607.