Next generation of weather scientists help to bring your forecast
Release Date 14 September 2012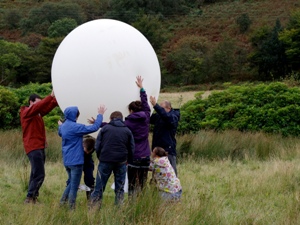 Students from the University of Reading's Department of Meteorology are providing the extra measurements that could make your weather forecasts just a little bit more accurate this week.
A group of ten undergraduates from the University of Reading have joined 20 students from the University of Leeds on the Isle of Arran, Scotland, this week as part of their studies learning how to measure the atmosphere and how atmospheric measurement can improve weather forecasts.
As part of the week-long field trip, the students will be launching a weather balloon each day, which will soar into the upper reaches of the atmosphere (up to 100,000 feet), helping them understand how winds and temperatures vary through the atmosphere.
As well as giving the students hands-on experience of weather data collection, the information gathered by the weather balloon is being passed to the Met Office and incorporated into the weather forecast for the UK this week.
Andrew Charlton-Perez, who is leading the expedition for the University of Reading's Department of Meteorology, said: "This trip is a fantastic way to give our undergraduates first-hand experience of how weather data is collected and analysed, helping them to understand some of the complex atmospheric processes at work.
"Reading is not only one of the leading world centres for research into weather and climate - we're also helping to train the next generation of meteorologists. This kind of hands-on experience is just one of the ways in which we give our students a world-class education in our subject."
Students are involved in a wide range of activities this week, including walking up the 850m high Goat Fell while taking meteorological measurements, measuring winds and temperatures in the boundary layer and in one of the steep sided valleys in Arran. They will also be measuring how atmospheric radiation interacts with the stone, mud, grass and water that make up the surface of the Earth.
The trip, running from 7 to 14 September, forms part of the third and fourth year studies for students on the BSc and MMet degree programmes at Reading.
ENDS
For more information contact Pete Castle at the University of Reading press office on 0118 378 7391 or p.castle@reading.ac.uk.
Notes to editors:
The University of Reading is ranked as one of the top 25 universities in the UK by both the Guardian and Times university guides and is listed among the top 1% of universities in the world (THE World University Rankings 2011-12). Reading is home to both the world-renowned Department of Meteorology and the Walker Institute for Climate System Research.