University boosts research expertise in sustainable technologies for the built environment
Release Date 26 September 2012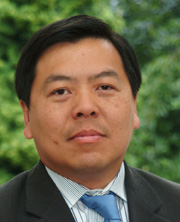 The University of Reading is delighted to announce the appointment of Li Shao as Professor in Sustainable Technologies for the Built Environment.
Professor Shao joins Reading from De Montfort University where he was Chair in Building Energy Systems. His expertise and research in areas such as sustainable energy technologies for buildings and adaptation of buildings for the future climate, reinforces the University of Reading's reputation as a world leader in research relating to sustainability and technology in the built environment.
The impact of climate change is particularly pertinent to the construction industry and there is a growing need to adapt our existing built environment to these changes. The effects of higher temperatures, flood and drought on the structural stability and weather resistance of current building materials are all areas of concern.
There is also the need to reduce the environmental impact of energy used by homeowners to reduce dependence on fossil fuel resources and provide opportunities for mitigating greenhouse gases.
Professor Shao's recent research has involved 'people-centred' technologies for energy demand reduction, such as a wireless information system for monitoring energy behaviour of building users. Li has also worked on the reliable delivery of genuine carbon emission reduction and adapting UK dwellings to cope with future extreme weather events, particularly heat waves. His work in this area has been highlighted in the Mayor of London Climate Change Adaptation Strategy (2011) and informed the latest NHS Heat Wave Plan (2012)
Professor Shao believes successfully integrating mitigation and adaption is key to tackling climate change as well as adopting an interdisciplinary and systemic approach.
Professor Shao said: "I am delighted to join the University of Reading and look forward to working with colleagues from many parts of the university and partners beyond the campus to deal with some interesting and pressing challenges facing us today and tomorrow."
Li began his academic career in 1993 when he joined the University of Nottingham as Reader in Architectural Environment Engineering and Co-Director of the Institute of Building Technology. He then moved to De Montfort University to take up the Chair in Building Energy Systems at the Institute of Energy and Sustainable Development (IESD) in 2007. Li joined the University of Reading in September 2012 as Professor in Sustainable Technologies for the Built Environment.
Professor Stuart Green, Head of the University's School of Construction Management & Engineering, said: "We are delighted to welcome Professor Li Shao to our expanding research group relating to sustainability in the built environment. Professor Shao has an established strong reputation for his research on energy systems in buildings and the adaptation of building to climate change. He brings new ideas and enthusiasm to a research group which is already internationally recognised."
ENDS
For all media enquiries please contact James Barr, University of Reading Press Officer on 0118 378 7115 or by email on j.w.barr@reading.ac.uk
Follow us on Twitter | Like us on Facebook | Read our research blog 'The Forum'
Notes for Editors
The University of Reading is ranked among the top 1% of universities in the world (THE World University Rankings 2011-12) and in the best 25 universities in the UK (Times, Guardian).
The University of Reading's School of Construction Management is a world leader in teaching and research about the management, design and economics of engineered technologies, primarily in the construction field. Its global reputation for innovation, focused on real-world problems facing the management of the built environment, attracts academics, students and industry professionals of the highest calibre. It has strong links to industry, professional institutions and governments around the world and attained a top international rating of 5 in the most recent Research Assessment Exercise.
The Technologies for Sustainable Built Environments (TSBE) Centre was established in 2009 with a £6m award from the Engineering and Physical Sciences Research Council (EPSRC). The award confirmed the University of Reading's status as an international centre of excellence for construction technology, climate modelling and business innovation research. The TSBE Centre has had a highly successful start and currently has 21 research engineers working on collaborative research projects with a range of industry partners.