Olympic champion joins University in saying 'thank you' to donors
Release Date 04 April 2013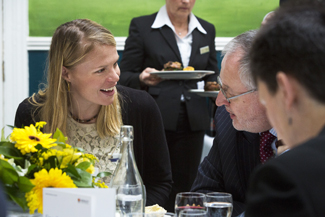 Olympic gold medallist Anna Watkins joined over 100 donors to the University of Reading at this year's Donor Day, to celebrate the difference that philanthropy makes to the University and its students.
The event, which was sponsored by Haslams Chartered Surveyors, took place at the University's Henley Business School campus at Greenlands, Henley-on-Thames, and marked five years since the University merged with the Henley Management College to create Henley Business School.
Anna Watkins, who is studying for a PhD in Mathematics at the University of Reading, won a gold medal in the rowing at the London 2012 Olympic Games. Anna took time out of her busy schedule to share the story of her Olympic journey with guests, and to join the University in saying a personal thank you to its many donors for their support.
Donor Day closely follows an extremely successful Annual Fund telephone campaign, in which over 1,000 graduates donated more than £430,500 to transform the lives of current and prospective students. Combined with the financial support of trusts, foundations and corporate sponsors over the last nine years, more than £30 million has been raised to support students and cutting-edge research at the University.
As well as hearing an adrenaline-filled talk from Olympic Champion Anna, who shared her experience of winning a gold medal in front of a home crowd, Donor Day provided an opportunity for guests to learn how their donations are making a difference across many different areas of the University, through a series of talks and exhibitions.
Diane Lambe (BA English and French 1993) is one of the donors to the University of Reading to have attended the event. Diane said:
''The Greenlands campus was a wonderful venue for Donor Day. The presentations and displays were stimulating and informative, once again demonstrating the wide variety of all that the University of Reading has to offer. There were so many interesting alumni, staff, and students to meet....and the afternoon tea was delicious.''
Luke Appleby, who graduated from the University in 2010 with an MSc in Real Estate, is one of the many talented individuals to have benefitted from the generosity of alumni donations. While studying at the University of Reading, Luke received a bursary from the Reading Real Estate Foundation.
Speaking in his presentation to guests, Luke said: ''Not long after I started my education at Reading, my place on my course was in jeopardy. The bursary I was awarded by the Reading Real Estate Foundation was invaluable, and allowed me to make the most of my time studying at the University of Reading. As a result, I finished my Masters and went straight into employment. I wouldn't be where I am today without such generous support so I speak on behalf of all other students who have received a bursary when I say thank you!''
To find out more about Donor Day, or for further information on making a donation to the University, please contact the Campaigns and Supporter Engagement Office: annualfund@reading.ac.uk or +44 (0) 118 378 8006.