MPs use Reading expertise for Select Committee report on the link between pesticide and bee decline
Release Date 05 April 2013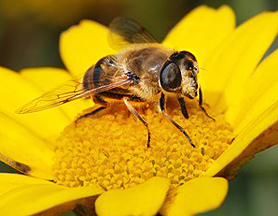 The University of Reading has provided important evidence for a House of Commons report today which has recommended a pesticide linked to bee decline be suspended from use on 'flowering crops attractive to pollinators'.
Bees are critical to Britain's food supply and economy, but numbers of some species have fallen dramatically in recent years. Disease, habitat loss and climate change can all affect insect populations, but a growing body of peer-reviewed research suggests that the use of one group of insecticides is having an especially damaging impact on pollinators - neonicotinoids.
Professor Simon Potts, from the University of Reading's School of Agriculture, Policy and Development, is a leading bee expert who has been studying bees and pollination services for 25 years.
While giving evidence to the Committee Professor Potts said: "What we need is a longer-term phased reduction in all pesticides, not just neonicotinoids, and increasing uptake of integrated pest management strategies such as biocontrol and better crop management. A lot of those tools are out there and if we are going to get co-benefits of good production, food security and good environmental quality, then we need to be a lot smarter about the way we intensively farm."
The Committee's report cited research carried out by Professor Potts and his team that found pesticide use rose by 6.5% between 2005 and 2010, increasing the risk to bee populations, and that it would cost the UK an extra £1.8billion every year to hand pollinate crops without bees. In a report by Professor Potts, published last year by Friends of the Earth and cited by the Select Committee, Reading scientists found that two British bumblebee species have become extinct, solitary bees have declined in over half the areas they were studied in and managed honey bee colonies fell by 53% between 1985 and 2005.
Authorities in France, Germany, Italy and Slovenia have already suspended the use of some neonicotinoids in certain circumstances. The select committee report recommends a full ban on the sale of neonicotinoids for public domestic use in order to create an urban safe haven for pollinators.
Professor Potts said: "I welcome the Committee's recommendation and in particular the call for a moratorium in the UK on the use of the most harmful neonicotinoids on crops attractive to bees, and the recognition of the need to ban neonicotinoids altogether from gardens and other urban areas.
"Conservation of pollinators and food production don't need to be in conflict - if we increasingly replace pesticides with biological pest control then we can grow food more sustainably and protect the environment at the same time. Research from the University of Reading and elsewhere has shown the multiple problems facing Britain's bee population. This is a big challenge that needs a combined effort by national and local government, academic research, businesses and individuals to make a difference."