Everybody needs good neighbours: University to recognise students' community work
Release Date 10 April 2013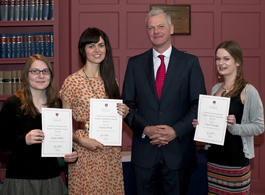 Do you know a University of Reading student who has had a positive impact on your local community? Students who go the extra mile for their neighbourhood are to be recognised again this year, but first they need to be nominated.
Each year over 1,500 students give up their time to help others in the Reading area. These unsung heroes help with local youth groups, organise fundraising activities for charities, or carry out acts of kindness and generosity just because they see a need and want to help.
The University's Student Community Awards aims to recognise and reward those students who voluntarily help others, and the Award organisers need your help in identifying those who selflessly offer their time for the good of the community.
In 2012 three students (pictured) were declared joint winners: Janine Holmes who volunteered at local charity Me2 and built a particularly strong relationship with an 11 year old girl named Polly with autism; Nicola Abram who volunteered as part of the Rahab Project which contacts and supports sex workers; and Laura Truesdale who set up and ran art workshops for Reading Drugs and Alcohol Information Services.
Ann Westgarth, Community Relations Manager for the University, said: "Every year we are surprised and delighted by the nominations we receive for this award. Many students give up hours of their own time to help others or see a need which they want to try to meet. Students who make a contribution in this way feel part of the local community and are valued for their efforts, and we hope that the people of Reading will help us recognise as many of them as possible."
The closing date for nominations is 30 April 2013.