Channel 4's 'Embarrassing Bodies' visits the University of Reading
Release Date 19 April 2013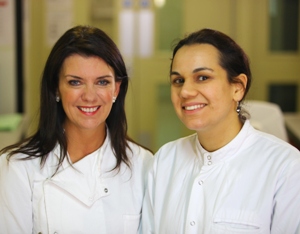 One of TV's most popular factual TV shows, Embarrassing Bodies, features the University of Reading in its opening episode this month.
The entertaining Channel 4 programme features real-life people with some common and more unusual medical and health issues.
Presenter Dr Dawn Harper visited the University of Reading's Department of Food and Nutritional Sciences earlier this year to interview expert microbiologist Dr Gemma Walton and film sequences for a special feature.
The feature will be aired as part of the opening episode of 'Embarrassing Bodies: Live from the clinic' on Tuesday, 23 April 2013 at 8pm on Channel 4.
Dr Walton said: "Embarrassing Bodies is an entertaining programme, but one of the reasons for its popularity is the way it explores common health issues that can affect us all.
"Here at the University of Reading we are leading the world in the study and research of some of the biggest health issues facing people today, including heart disease, cancer and mental health. I'm pleased that through this programme, one area of our work in the Department of Food and Nutritional Sciences will be highlighted to a wider audience."
ENDS
For more information contact Pete Castle at the University of Reading press office on 0118 378 7391 or p.castle@reading.ac.uk.
Notes to editors:
Further details of the University's involvement in the programme will not be available until after the episode is broadcast.
The University of Reading is among the leading 1% of universities worldwide (THE World University Rankings). Its Department of Food and Nutritional Sciences is the largest University department of its kind in the UK, combining state of the art teaching facilities, clinical nutrition unit, labs and the largest pilot processing plant in Britain, and is internationally recognised for the quality of its research into food and its impact on human health.