University the perfect platform for national chemistry prize winner
Release Date 30 April 2013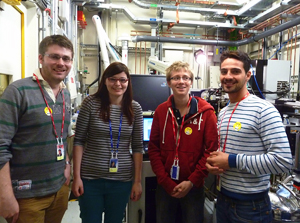 Experts from the University of Reading have provided the spark for a young Slough scientist to win a prestigious chemistry award.
Joshua Sauer was awarded the Royal Society of Chemistry Prize at the UK National Science and Engineering Competition, for a Nuffield Foundation project he undertook at the University last summer.
Joshua's project, which was on data processing at the molecular level, was conducted under the expert supervision of Professor Howard Colquhoun and colleagues in the University's Department of Chemistry.
Joshua said: "My five weeks spent at the University of Reading gave me a fantastic insight into the world of chemistry research. I found the whole experience fascinating and highly enjoyable, and at the end of the five weeks I felt like an honorary member of the research team. Professor Colquhoun and the research group offered amazing support. They made me feel very welcome and got me involved with their work straight away. I would happily return to Reading this summer."
Joshua's prize winning journey started last summer when he obtained a work placement through a Nuffield Research Award. Joshua contacted Professor Colquhoun to ask if he could carry out a project in his research group. Professor Colquhoun was delighted to accept the request and Joshua spent five weeks in the Department working closely with Reading experts who taught him the synthetic chemistry needed for the project.
After returning to St Bernard's Catholic Grammar School in Slough, Joshua was encouraged by the Nuffield Foundation to enter his project in the UK National Science and Engineering Competition, organised by the British Science Association. Joshua made it to the finals, which were held in March at the ExCeL Centre in London, during the 'Big Bang' science fair. The event was attended by VIPs including the Prime Minister.
Joshua was jointly awarded the Royal Society of Chemistry Prize for his project and also made it into the final five in the overall science competition.
Professor Colquhoun said: "Many congratulations to Joshua. He was a delight to work with and has a very bright future ahead of him. Chemistry is fundamental to practically every aspect of modern life, from microelectronics to medicine. Supporting the next generation of talent is vital so that we continue to produce highly skilled researchers needed for the country's future success."
Since working at Reading, Joshua has been offered a place to read Chemistry at Oxford University.
ENDS
Image shows Joshua during a working visit to the "Diamond" X-ray Facility at Harwell, with a group of Prof Colquhoun's PhD students. Left to right they are: Matt Parker, Claire Murray, Joshua Sauer and Federico La Terra.