Reading scientists' research recognised in national competition

Release Date 05 August 2013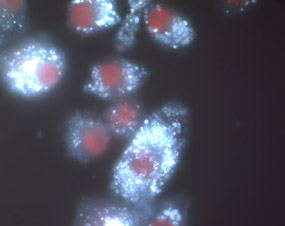 Two University of Reading scientists have been recognised in a national British Heart Foundation (BHF) competition, for producing an immune cell image which could help fight heart disease.
Dr Yichuan Wen and Dr David Leake, from the University's School of Biological Sciences, are celebrating after being highly commended in 'Reflections of Research', a national image and video competition run by the BHF. The entries provide a snapshot of the incredible life-saving work undertaken by BHF-funded heart scientists in the UK.
The charity invited its funded scientists - from over 1,000 projects - to submit the most incredible and eye-opening images and videos produced in the course of their work. The competition showcases the extraordinary achievements of BHF-funded scientists working tirelessly to beat heart disease.
Dr Yichuan Wen and Dr David Leake produced an image of immune cells in our arteries capturing cholesterol. The cells can alter this cholesterol producing damaging effects, which can lead to heart attacks and strokes. Improving our understanding of this process, which is part of coronary heart disease, could lead to new treatments for the condition which affects over 22,000 people in Berkshire alone (1).
Immune cells - called foam cells - are present in arteries of people with atherosclerosis. This cholesterol captured in the foam cells can be altered by the cells to produce damaging effects which can lead to heart attacks and strokes.
Dr Wen said: "The British Heart Foundation plays a leading role in the battle against cardiovascular disease by supporting cutting-edge research like ours. We were delighted to be shortlisted for Reflections of Research, and receive such brilliant encouragement for our work.
"Our image - 'Killer Cholesterol' - illustrates a crucial step in the build-up of cholesterol in blood vessel cells. The build-up results in the furring of arteries, known as atherosclerosis, which can lead to heart attacks and strokes. We hope our work will lead to new life-saving drug treatments to prevent atherosclerosis."
The winning images and videos were chosen by a panel including BBC Health and science reporter James Gallagher, BHF Chief Executive Simon Gillespie and BHF Medical Director Professor Peter Weissberg.
Simon Gillespie, Chief Executive of the BHF, said: "This isn't just visually arresting art; this picture is a reflection of our life-saving research, which makes it even more beautiful.
"These Reading researchers are not just flexing their artistic muscles by creating this stunning video. They are also working tirelessly to understand more about cardiovascular disease, to help the thousands of people in Berkshire, and across the UK, who are needlessly suffering. Their work is vital and we urgently need your support to fund their research."
The winning images and videos can be viewed online at bhf.org.uk/reflections
ENDS
For more information please call the BHF press office on 020 7554 0164 or 07764 290 381 (out of office hours) or email newsdesk@bhf.org.uk
Notes to editors
Quality and Outcomes Framework, GP register 2011-2012
For high res images and movies contact newsdesk@bhf.org.uk
All shortlisted images and videos can be viewed here:

http://www.flickr.com/photos/bhforguk/sets/72157633408498326/with/8703366633/
All images and videos have been produced as part of research funded by the BHF
For more information about Reflections of Research visit bhf.org.uk/reflections
British Heart Foundation
Coronary heart disease is the UK's single biggest killer. For over 50 years we've pioneered research that's transformed the lives of people living with heart and circulatory conditions. Our work has been central to the discoveries of vital treatments that are changing the fight against heart disease. But so many people still need our help. From babies born with life-threatening heart problems to the many Mums, Dads and Grandparents who survive a heart attack and endure the daily battles of heart failure. Every pound raised, minute of your time and donation to our shops will help make a difference to people's lives.
For more information, visit bhf.org.uk