University of Reading archaeologists make a little boy's dream come true

Release Date 08 August 2013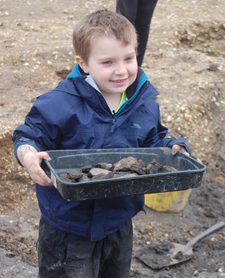 History-loving six year old Laughlin (Lockie) Whiteley spent a day helping archaeologists from the University of Reading at their dig in Silchester, thanks to a charity which organises wish days for children facing life-threatening conditions.
Lockie was greeted and shown around Silchester Roman Town by Amanda Clarke from the University of Reading's Department of Archaeology. He washed and sieved real life archaeological finds with students of the field school, created, broke and fixed a pot before finally getting muddy by digging for real finds in the trench!
Lockie, from Burnham-on-Crouch in Essex, was diagnosed with a brain tumour in 2011. Lockie loves history, so Make-A-Wish Foundation® UK, the charity that grants magical wishes to children and young people fighting life-threatening conditions, sent him to Silchester Field School to take part in an archaeological dig.
The University of Reading's Department of Archaeology has been excavating and researching Silchester Roman Town in Hampshire since 1997. For six weeks every summer, archaeology students from Reading and enthusiasts from as far away as the US and Australia attend the Field School.
Amanda Clarke, Director of the Silchester Field School, said: "We were delighted to be able to share an archaeological day with Lockie! He was so passionate about every aspect of archaeology, and threw himself into every activity with huge enthusiasm. Seeing the excitement on his face - and the biggest of smiles - was a great reward for all of us and made the day worthwhile. I would have Lockie as a member of my excavation team at any time! Make-A-Wish certainly made his wish a reality."
Lockie has endured both radiotherapy and chemotherapy. While receiving treatment at Great Ormond Street Hospital Lockie visited the British Museum in London.
Lockie's Mum, Andrea Poyser, said: "My favourite part of Laughlin's wish has been seeing his energy, enthusiasm, excitement and focus - his core of who he is within his wish. This is what he wants to be, so seeing him digging and finding artefacts has been amazing. It's been the best experience."