Stimulating, supportive, well-organised, and one of the best students' unions in the UK
Release Date 13 August 2013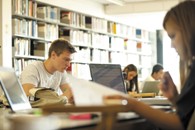 The University of Reading has improved its consistently high levels of student satisfaction, with students praising intellectually stimulating courses, with good teaching, interesting subjects and an excellent students' union, according to the latest official survey.
Reading performed strongly once again in the annual National Student Survey, which asks final year students to rate their experiences of university life across a range of measures.
Overall levels of student satisfaction rose to 89% in 2013, up from 88.5% last year, and significantly above the UK universities' average of 86%.
Two individual departments (Soil Science and Archaeology) received 100% satisfaction rates - among 18 departments that achieved overall satisfaction scores of 90% and above.
The university's students' union was also ranked as one of the best in the country, with an 80% satisfaction rating - well above the average for the UK of 68%.
Year on year, Reading students have rated the quality of teaching on their courses highly. Replies of students graduating in 2013 included rating staff as good at explaining things (92%), making the subject interesting (85%) and courses that are intellectually stimulating (90%).
Reading students also recorded a big jump in their satisfaction with learning resources, such as library services, IT resources and specialist equipment, with 82% expressing satisfaction, up 6% from the previous year.
Sir David Bell, Vice-Chancellor of the University of Reading, said: "Reading students are at the heart of university life at Reading. It's gratifying to know that they have once again expressed strong satisfaction with the quality of their experience studying here.
"We are focused on providing an excellent experience to all our students and our consistently good results from the National Student Survey reflect our continuing commitment to maintain and improve this.
"An expansion of library opening hours, creation of more flexible study space and investment of more than £1m to extend broadband wi-fi across all our campuses are just some of the ways in which we are continuing to adapt and innovate to the benefit of all our students."
Mark Kelleher, President of Reading University Students' Union (RUSU), said: "We are pleased to see that students remain extremely satisfied with RUSU, which thanks to its excellent facilities, varied social activities and strong campaigns, retains its status as one of the best students' unions in the country. The increase in satisfaction with learning resources shows how, by working together in partnership with the university, effective student union representation leads to real improvements for students."
ENDS
For more information, contact Pete Castle at the University of Reading press office on 0118 378 7391 or p.castle@reading.ac.uk.
Notes to editors:
The National Student Survey (NSS) is a national initiative, conducted annually since 2005. The survey runs in the first quarter of the year across all publicly funded Higher Education Institutions (HEIs) in England, Wales, Northern Ireland, and participating HEIs in Scotland.
The survey asks final year students on undergraduate courses or equivalent to provide feedback on their courses in a nationally recognised format. Students are asked to indicate the extent to which they agree with a series of positive statements relating to the following aspects of the student learning experience.
The results of the survey are provided to participating institutions to help inform future practice and experience enhancement, and are also made available to prospective students and schools as part of the suite of data and information about universities on Unistats, the UCAS-managed website.