New funding means enhanced experience for microbiology students

Release Date 14 August 2013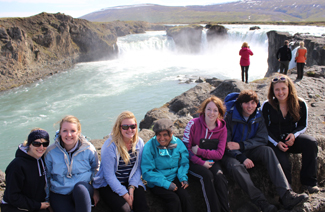 University of Reading students interested in microbiology can look forward to the best student experience and even stronger career prospects, after an award of nearly £60,000 to the University from the British Council.
The grant means that staff and students from Reading, combined with Jacobs University Bremen, Germany and Ghent University (Belgium), will benefit from experiencing the wonders of Akureyri in Iceland through an annual joint field trip module with the University of Akureyri.
Akureyri offers researchers a base to explore the extreme environments of Iceland, including geothermal regions and volcanoes, mountains and glaciers. The students have the opportunity to learn sampling techniques and then analyse their sampled microbes with training in advanced scientific techniques.
The University of Reading's Dr Robert Jackson and Dr Ben Neuman led the bid for funding to develop this ERASMUS Intensive Programme entitled Arctic Microbiology: education and training in field work and analysis. This culminated from previous trips to Iceland, supported by the ERASMUS and StudyAbroad Office, through the provision of an ERASMUS Preparatory Visit grant and Teaching Staff Mobilities.
Dr Jackson: "We are delighted to have received this funding from the British Council. It will allow the University to continue offering students fantastic field trips to Akureyri at a reduced cost. These trips are integral part of the course and considerably aid the development of students. Combined with visiting, and working with, institutions abroad which will develop key social and cultural skills, the new programme will have a positive impact on a student's employment prospects.
"From an academic perspective, the programme will enhance multilateral teaching and internationalisation cooperation of the institutions and provide cross-cultural training opportunities."
Last month a group of University of Reading students journeyed to Akureyri for the 2013 field trip. They visited a remote glacier in the middle of the country and were successful in isolating microbes from the glacial ice, which may have been deposited there up to 1000 years ago. They also sampled from geothermal hot pools and from mountain ice. In their free time, some of the students went whale watching while others made the most of the local scenery to climb mountains.
Second year biological sciences student Jonathan Ashall: "Most of us when looking at Iceland think of a cold and highly volcanic island; but going on this trip has shown just how rich the island is - we climbed mountains, sailed to a glacier and sampled geothermal pools. We learnt many new techniques for use in the labs and in the field. A true scientific adventure!"
David Hibler, British Council Erasmus Programme Manager, commented: "An Intensive Programme (IP), part of the European Union's Erasmus programme, offers a great opportunity for higher education institutions to receive funding to support students and lecturers to work together for a short period of time in multinational groups. Participants benefit from special learning and teaching conditions not necessarily available in a single institution, generating new ideas and best practice and gaining an international perspective in the process.
"The British Council, which manages the Erasmus Programme in the UK, uses independent assessors to review a university's application to take part in the programme and found Reading's to be innovative, imaginatively conceived and offering the participating students an invaluable learning opportunity in a co-operative endeavour. We wish them good luck with their IP and look forward to hearing more as it progresses."
ENDS