Students to work with renowned Theatre Royal Stratford East
Release Date 14 August 2013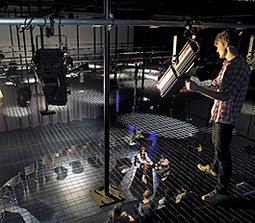 Students from the University of Reading are working with the renowned Theatre Royal Stratford East on an exciting international project that will see thirty new one person shows performed in thirty homes across London.
Students from the Department of Film, Theatre & Television will be filming all thirty performances that are set to be performed simultaneously on Saturday 26 October. The films will then be broadcast online and at Theatre Royal Stratford East on Saturday 9 November, enabling audiences from around the world to see the work and be part of the conversation online.
Home Theatre (UK), which is being run in partnership with the Festival Internacional de Cenas em Casa (International Festival of Home Theatre) in Brazil, is a pan-London project. It will link boroughs from across the capital, including some of the city's more affluent areas with Newham, a vibrant and diverse borough with extremely low arts engagement, where there are major influxes of new residents as the post-Olympic regeneration continues. The intention is to capture the spirit of London and to place Theatre Royal Stratford East's own borough of Newham in this context.
Artists working on the project will take their inspiration from the stories of those who are hosting the work in their own homes. At the end of the week, hosts will be encouraged to invite an audience of friends and family to see a free performance. The host is then asked to provide a meal, over which thoughts and experiences can be shared.
A final year University of Reading student will work on each of the one person shows. They will observe rehearsals and contribute to the development of the project by creating an integrated strategy for filming the resulting performance.
For many of the students taking part, the work on Home Theatre (UK) will be embedded within a third year module on Contemporary Performance, which explores both performance in non-theatrical contexts and the introduction of digital technologies into live performance. Others will draw on the interests in theatre and skills in filmmaking that the BA Film & Theatre has helped them to develop, and may choose to extend their reflection on the process in the form of a Work Based Learning module. Colleagues from Theatre Royal Stratford East will also be sharing experience and insights with the students involved, through talks and events at the theatre.
Kerry Michael, Artistic Director at Theatre Royal Stratford East said: "We're excited to be working with students from the University of Reading on this unique project. Filming the performances is a key element of the project as it will enable audiences from across the world to watch and take part in the conversation."
The Department of Film, Theatre & Television at the University of Reading is the longest-established Film Studies department in British Higher Education, and has been teaching Theatre for longer still, as well as pioneering the study of Television. It is highly regarded for its teaching and research, and puts a particular emphasis on the integration of practical work with critical, theoretical and historical approaches to the three art forms.
Dr John Gibbs, Head of the University of Reading's Department of Film, Theatre and Television, said: "Home Theatre (UK) is a very exciting project and another example of Theatre Royal Stratford East exploring the relationship between art and audiences. This partnership provides an outstanding opportunity for our students to develop their conceptual understanding of theatre and performance, and their professional knowledge and skills through a close working relationship with one of the country's most important and innovative theatres."
For more information please contact James Barr at the University of Reading press office on 0118 378 7391 or j.w.barr@reading.ac.uk or Felix Mussell, Press and Marketing Manager on 020 8279 1110 or email press@stratfordeast.com
ENDS
Notes to editors:
The University of Reading is ranked among the top 1% of universities in the world (THE World University Rankings). Its Department of Film, Theatre & Television is an innovative department where students learn about these three major cultural forms through theory and practice. It is housed in the purpose-built, £11m Minghella Building, which was opened by Oscar-winning film producer Lord (David) Puttnam in 2012. The building includes three theatres, a cinema, video and audio post-production suites, and fully-equipped film and TV studio.
The famous Theatre Royal, located in the heart of London's East End on the edge of the new Queen Elizabeth Olympic Park, prides itself on creating world class work that reflects the concerns, hopes and dreams of its community. Through a continuous loop it inspires and is inspired by its vibrant, young and diverse audience.