Vice-Chancellor helps to deliver the good news on A-level results day
Release Date 15 August 2013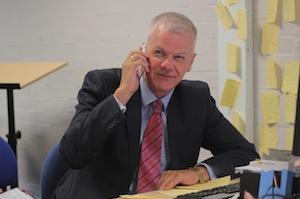 If you've got your results and you're coming to Reading, click here >>>
For information about Clearing & Adjustment, click here >>>
As students across the country received their A-level results today, Vice-Chancellor Sir David Bell was helping to man the phones for the University's Places Hotline on Thursday afternoon.
Sir David spoke to several students who have been waiting to find out if they have got the grades to come to the University of Reading this autumn.
The University is delighted to be receiving so many calls today. If students wishing to contact the University about Clearing and Adjustment are having trouble getting through, they are being asked to please keep trying on the hotline number 0118 378 7878 or email places@reading.ac.uk.
Sir David said: "I would like to offer my personal congratulations to all our incoming students on their examination success, and on behalf of all my colleagues in the University, we very much look forward to welcoming you to Reading in September."
If you've got your results and you're coming to Reading, click here >>>