Pathways to Property Summer School tackles diversity in the Real Estate sector
Release Date 20 August 2013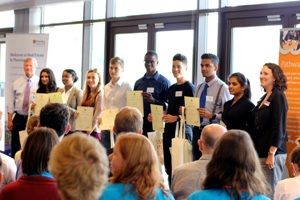 Pupils from schools and colleges across the UK visited the University of Reading recently to explore career opportunities and gain experience in the real estate industry.
The visit formed part of the 'Pathways to Property' programme, a major new initiative by the Reading Real Estate Foundation (RREF) in partnership with British Land and The Sutton Trust.
The Programme provides a much needed catalyst to attract talented students from disadvantaged backgrounds, not traditionally associated with real estate, into the £9 billion industry which currently employs circa 100,000 people in the UK. The programme targets Year 12 students (lower sixth) in UK state schools and colleges.
In July the University of Reading became a home away from home to 40 students who participated in the first Pathways to Property Summer School, providing them with the opportunity to discover industry related courses offered at the University of Reading.
Students were also able to meet industry professionals during a number of site visits in the local area which included The Oracle, Reading Station and Green Park, as well as benefitting from a talk from Reading Borough Council. After the Summer School participants will receive a mentor and will have the opportunity to apply for a week of paid work experience. Students who go on to study real estate and planning courses at the University of Reading will also receive additional support such as mentoring, bursaries, scholarships and internships.
Anita Muswere, Emmanuel College, Tyne & Wear - a student on the Pathways to Property Summer School:
"The Pathways to Property Summer School was a wonderful experience, more than I could have ever expected and has made me even more sure that I would like to pursue a career in Real Estate. The group work allowed us to meet great people we will never forget and people who we might be working with in the future. With no hesitation I would definitely recommend the summer school to anyone interested in Real Estate!"
Toni Alofe, The Latymer School, London - a student on the Pathways to Property Summer School:
"The Pathways to Property summer school was one of the best experiences of my life. It increased my knowledge about the variety of roles within the property sector and just how interesting a career in property would be. This experience also improved my understanding of the various ways to pursue a career in property and it gave me an insight into higher education courses in Property/Real estate. I took part in the programme to feed my interest in property, meet new people and to help me find an easier route to gain work experience in the property sector."
The property industry is well-known to be suffering from a lack of diversity with the vast majority of students who study real estate being either privately educated or benefitting from family connections already in the sector. The Summer School is part of a range of activities to support non-traditional students in pursuing careers in real estate and access to higher education.
Chris Grigg, Chief Executive, British Land, commented: "There is a convincing amount of evidence from right around the world that businesses succeed better over time if they represent and to some extent 'mirror' their stakeholders. Today, the property industry, like it or not, is something of a laggard in this regard and I worry that we will suffer, not least economically, unless we address the matter."
James Turner, Director - Programmes, The Sutton Trust said: "The Sutton Trust believes that careers in real estate and property - which are important, rewarding and interesting - should be open to bright young people from a wide range of backgrounds. That is why we are supporting Pathways to Property to help state school pupils understand the routes into the industry and be in the best position to access the university courses which will lead to professional careers. The programme is a great first step on the property and real estate ladder."
Nicole Gillham, Executive Director, Reading Real Estate Foundation, said: "We hope other companies and universities will follow suit to help strengthen the long-term sustainability of professional skills and expertise in the industry."
The project has been established with the support of the RREF Board of Trustees, Henley Business School and the School of Real Estate & Planning at the University of Reading. Firms pledging financial and other on-going commitment to the initiative include BNP Paribas Real Estate, CBRE, Colliers International, Cushman & Wakefield, DTZ, Gerald Eve, Jones Lang LaSalle, Knight Frank, Lambert Smith Hampton, Redevco, Savills, Strutt & Parker, The Crown Estate and UPP.
For further information about RREF, please contact Jane Symmons, Senior Development and Projects Manager, j.symmons@rref.reading.ac.uk or tel. 0118 378 4096.
Jack Haining, Pathways to Property Ambassador and BSc Student, Real Estate and Planning, University of Reading:
"The programme is the first time that there has not only been acknowledgment but also great commitment from market leading companies that increased diversity and accessibility to property would be beneficial to the sector as a whole."
ENDS
Notes for Editors:
About the Reading Real Estate Foundation: The Reading Real Estate Foundation was founded in 2002 and is a unique and forward-thinking educational charity, established to support real estate and planning education at the University of Reading. It engages and nurtures students to help them achieve their full potential and become the best in the industry.