Kazakhstan's Deputy PM visits University of Reading's Henley Business School
Release Date 21 August 2013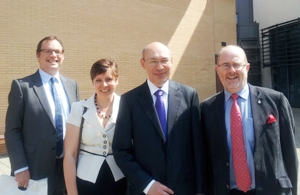 The Deputy Prime Minister of Kazakhstan, Kairat Kelimbetov, visited the University of Reading last month for a tour of Henley Business School and discussions into opportunities for Henley to enter the Kazakhstani education market.
The visit on 17 July highlighted the two world-class Centres within Henley Business School which are of particular interest in Kazakhstan. These are the ICMA Centre, with its portfolio of courses for the study of financial markets, and the Centre for Euro-Asian Studies, which has a focus of research and education into International Energy and long-standing studies into the Euro-Asian region and the former Soviet states, of which Kazakhstan is one.
Mr Kelimbetov declared a 'personal interest and support' in the type of programme portfolio which Henley Business School would be able to offer Kazakhstani students. His comments followed discussions with Professor John Board, Dean of Henley Business School, Professor Yelena Kalyuzhnova, Vice-Dean (International) of Henley Business School and Director of the Centre for Euro-Asian Studies, and Professor Adrian Bell, Head of ICMA Centre.
Professor Tony Downes, Deputy Vice-Chancellor of the University of Reading, was delighted to welcome Mr Kelimbbetov to the University's campus.
"It is excellent for the Deputy Prime Minister to be able to witness first-hand the business spirit we are fostering here at the University. Being able to offer a comprehensive menu of support for Henley Business School in Kazakhstan is a vital part of our contribution to promoting business education in emerging economies," said Professor Downes.

Professor Board added: "As a leading UK university for business engagement, it is fantastic to see such opportunities as we have now in Kazakhstan.
"We take the germ of an idea and convert it into a business which can also be a new step in the future development of Henley Business School. "
Since its inception in 1996 the Centre for Euro-Asian Studies has developed a strong commitment to promote Reading in Kazakhstan. In the intervening years, the University of Reading has taught many Kazakhstani students and has conducted research on many economic and financial issues related to Kazakhstan. Additionally the members of the Centre are frequent speakers at international forums and conferences devoted to Kazakhstan.
Following the visit, Professor Kalyuzhnova said: "It was an honour to welcome Mr Kelimbetov to the University of Reading today.
"Henley Business School in Kazakhstan is an exciting and interesting initiative and we look forward to further discussions as Kazakhstan's plans evolve."
ENDS
For more information contact Pete Castle at the University of Reading press office on +44 (0)118 378 7391 or p.castle@reading.ac.uk.
Notes to editors:
The University of Reading is a top 1% world university (THE World University Rankings 2012-13). Its Henley Business School was the first business school in the UK and is one of the oldest and most respected schools in Europe. It is one of the very few business schools worldwide to hold triple-accredited status from the major UK, European and US awarding bodies (AMBA, EQUIS, AACSB), and is the world's third largest provider of MBA education.
Photo shows (from left): Professor John Board (Dean of Henley Business School), Professor Yelena Kalyuzhnova (Vice-Dean (International)), Mr Kairat Kelimbetov (Deputy Prime Minister of Kazakhstan), Professor Tony Downes (Deputy Vice-Chancellor)