University receives third Green Flag Award for stunning campus
Release Date 16 August 2013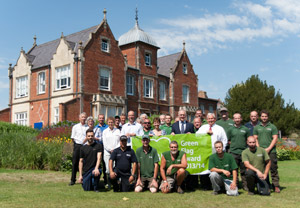 The University of Reading's stunning Whiteknights campus has once again been judged as one of the best green spaces in the country, with the award of the prestigious Green Flag.
The Award, which has been given to Whiteknights for the third consecutive year, is a sign to visitors that the campus is well-maintained and well-managed, with excellent facilities.
See more photos of our beautiful 130 hectare campus >>>
At the ceremony to hoist the Green Flag over the Whiteknights campus, Pro-Vice-Chancellor Professor Gavin Brooks said: "We are delighted to have gained a Green Flag Award for the third year running. Our attractive grounds continue to be a factor which differentiates Reading from our competitors. Recent student satisfaction surveys have highlighted the fact that the 'attractive campus environment' is a key factor in undergraduates choosing to study at Reading.
"The Award also recognises the University's environmental and sustainability initiatives - our green waste re-cycling and composting, energy conservation and carbon reduction targets, bio-diversity initiatives such as woodland management and our car sharing and green travel initiatives."
The Green Flag Award scheme is the benchmark national standard for parks and green spaces in the UK. Grounds management, innovation and the way facilities are tailored to the needs of the community are taken into account.
Find out more about applying to the University of Reading >>>
ENDS
For all media enquiries please contact the Press Office on 0118 378 7115 or media@reading.ac.uk
Follow us on Twitter | Like us on Facebook | Watch our videos on YouTube