The future of our countryside and communities - Vice-Chancellor in conversation with Rt Hon. Hilary Benn MP
Release Date 03 December 2013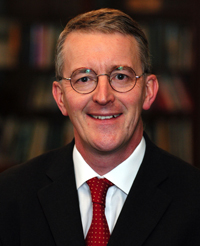 Should communities have more say over planning? How will we sustain our food supply in the future? These and other countryside and community issues will be put under the spotlight next week at the Museum of English Rural Life's Annual Lecture when the University of Reading Vice-Chancellor Sir David Bell will be 'in conversation' with Shadow Secretary of State for Communities and Local Government, Rt Hon. Hilary Benn MP.
The different format promises to make this year's event, which takes place on Thursday 5 December, even more fascinating. Sir David and Hilary, leaders in the worlds of education and politics respectively, will take to the stage and debate key environment and planning issues that affect the local area and the country as a whole.
The magnificent Great Hall on the University's London Road Campus provides the perfect setting for this interactive event. Lively debate looks on the cards as the audience will have the unique opportunity to pose their own questions on a wide-range of topical issues.
Rt Hon. Hilary Benn MP has served as Secretary of State for International Development and as Secretary of State for Environment, Food and Rural Affairs.
He said: "With the global population rising, a majority of people now living in towns and cities and the climate changing, the pressures on our small and fragile planet are intensifying. How are going to feed ourselves in the years ahead? What if sea level rise leads to mass migration? How do we protect nature and biodiversity in all their magnificence? What will rural life, including in the UK, look like? And most important of all, how is our politics going to help shape our future world?
"I am greatly looking forward to discussing all this - and much more - with Sir David Bell and the audience."
This year's MERL Annual Lecture is one of a series of events which have brought influential individuals in public life to the University of Reading. In recent times the University of Reading has welcomed high-profile figures including the Rt Hon David Miliband MP and The Archbishop of Canterbury, Dr Rowan Williams.
Sir David Bell, Vice-Chancellor of the University of Reading, said: "This is a wonderful opportunity for the public to hear from and meet a leading figure in British politics. Hilary Benn has been at the forefront of issues such as global food security and supporting and developing communities. I'm very much looking forward to what will be an illuminating evening."
Kate Arnold-Forster, Director MERL, added: "This an invaluable opportunity for MERL to host a discussion on issues that will directly relate to our current re-development plans, helping to ensure that our NEW displays and programmes are relevant to both urban and rural audiences."
The event takes place on Thurs 5th December at 7pm in the Great Hall on the University's London Road campus. Admission is free and tickets and further information are available from the Museum of English Rural Life by calling 0118 378 8660 or visiting www.reading.ac.uk/merl Remaining tickets will be available on the door.
ENDS