University of Reading and local schools remember 'children of war'
Release Date 05 December 2013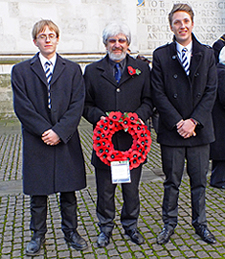 The University of Reading's Professor Martin Parsons led a group of local school children to Westminster Abbey recently for a special ceremony to remember the 'forgotten voices of war' - the children.
Pupils from two Berkshire schools, The Montessori Nursery School in Bradfield Southend and Reading School, joined families of current service personnel and Professor Parsons in laying wreaths at Westminster Abbey's Innocent Victims Memorial. Former WW2 child evacuees and pupils from the Skinners Academy, London also attended.
The ceremony, which took place on United Nations' Universal Children's Day (20 Nov), also aimed to highlight the need for more educational and emotional support for children with service parents. Earlier this year Professor Parsons gave evidence to a Defence Select Committee highlighting that children who are forced to move through redeployment can receive significantly less education. They can also be disadvantaged at exam time because of the difference not only in the Exam Boards that schools may work with, but also the different modules that they may be taking.
Professor Parsons said: "Recent research shows that on average children miss at least two weeks' education every time they have to move, because they tend to be less engaged in class leading up to the move. Schools need to be aware of their responsibility in making the transition of service children as easy as possible. Exam boards should also make allowances for the lack of continuity in these children's educational experience in some way.
"In addition, teachers should recognise the specific pastoral needs of these children and act accordingly. Work done by Pippa Bleach at the Connaught School in Aldershot has demonstrated that simple measures such as keeping service children attainment data up to date so it can be transferred very quickly to a receiving school, can have a significant positive effect when a pupil has to move."
Professor Parsons has been researching the effects suffered by WW2 child evacuees for nearly 30 years. He sees that the same problems suffered by those children who were evacuated in World War Two; separation, loneliness, home sickness and psychosomatic issues are now some of the affects felt by those children who have a parent(s) serving in areas of conflict. These are often compounded when the child has suffered a bereavement.
He continued: "Some of the children of men and women serving in places such as Iraq and Afghanistan are not receiving enough support to cope with issues such as separation anxiety and pressure through taking on responsibility of an absent parent. A simple comment, such as 'you are in charge now' or 'look after your Mother for me' can inadvertently create a great deal of anxiety for the child which can manifest itself in attention seeking behaviour or poor attainment in class. These issues can carry on into adult life and can cause early break-up of relationships, phobias and general emotional problems."
Reading School student Conor Black, aged 17, joined the trip to Westminster Abbey. He said: "The service gave me a greater appreciation for the sacrifice made by children caught in conflict. It's all too easy to forget them yet they are the inevitable and most tragic fallout of any conflict. Every person living in a country which does participate in foreign military intervention should realise and acknowledge this fallout occurs. I am pleased that the act of remembrance for the innocent victims of war is gaining weight each year, and hope that it will become a worldwide event soon.
ENDS