Winter graduation celebrations for University of Reading students
Release Date 11 December 2013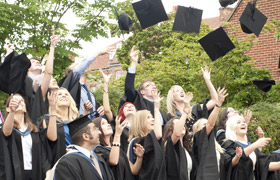 Practical information about this year's graduation ceremonies >>>
Watch graduation live online! >>>
This week, over 3,000 students will graduate from the University of Reading. Eight ceremonies will be held on Thursday and Friday in the University's magnificent Great Hall on the historic London Road campus.
Graduates can enjoy the celebrations in the knowledge that studying at Reading has provided them with a great start to the next stage of their lives. This year 92% of University of Reading graduates were in work or study six months after graduating, with nearly three-quarters of those in full-time work being in professional or managerial roles.
Vice-Chancellor of the University of Reading, Sir David Bell said: "The University is extremely proud of all its graduates. They have received a first-class student experience and studied under our superb academic staff, many of whom are leading authorities in their fields. This week students will graduate in subjects as diverse as literature and languages, law, biological sciences, arts and communication design, food marketing and business and teacher training, to name but a few.
"A degree from the University of Reading is highly regarded by employers across the globe. My congratulations go to all who are graduating over the coming days and I wish them the very best for the future."
Tweet your congratulations using #rdggrad.
Honorary Degrees
This year's winter graduation ceremonies will also see distinguished public servant and businessman Dudley Fishburn, and former Chief Scientific Advisor to the Government Sir John Beddington, awarded honorary degrees.
Dudley Fishburn
Educated at Eton and Harvard, Dudley Fishburn is currently a Director and Chairman of several international companies. Dudley Fishburn has had a varied and distinguished career in public service. He received the Harvard Alumni Award in 1998 and became the first non-American to serve on the Board of Harvard. Dudley Fishburn was Executive Editor of The Economist and a Member of Parliament for Kensington from 1988 to 1997. He has also served several national charitable organisations including as Treasurer of the National Trust.
Dudley Fishburn served as a member of the Council at the University of Reading from 2002 until 2012. He is founder and Chairman of the Friends of Silchester, one of the most important archaeological excavations in the UK which is run by the University.
Dudley Fishburn will be presented for the Honorary Degree of Doctor of Letters at the 12.00 noon ceremony on Thursday 12 December by Professor Michael Fulford, Professor of Archaeology and Director of the Silchester Town.
Professor Sir John Beddington
Professor Sir John Beddington, CMG, FRS was Chief Scientific Adviser to the Government from 2008 until 2013. During his tenure, Sir John advised on events such as the 2009 swine flu outbreak, Icelandic volcanic ash cloud and the Japanese Fukushima nuclear reactor crisis. His research interests complement the University's world-leading research areas of weather, climate change, energy and food security.
In June 1997, Sir John was awarded the Heidelberg Award for Environmental Excellence and in 2001 he became a Fellow of the Royal Society. In 2004 he was awarded the Companion of the Order of St Michael and St George by the Queen for services to fisheries science and management. Sir John's is currently Senior Adviser at Oxford Martin School and Professor of Applied Population Biology at Imperial College London.
Sir John Beddington will be presented for the Honorary Degree of Doctor of Science at the 12.00 noon ceremony on Friday 13 December 2013 by Professor Richard Tiffin, Professor of Applied Economics and Director of the Centre for Food Security.