The future of our countryside and communities - Vice-Chancellor in conversation with Rt Hon. Hilary Benn MP
Release Date 12 December 2013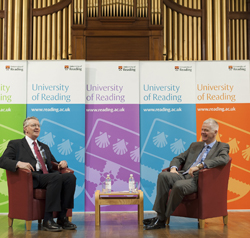 Town planning, food security and the HS2 route were among the countryside and community issues put under the spotlight last week at the Museum of English Rural Life's Annual Lecture. Over 250 saw University of Reading Vice-Chancellor Sir David Bell 'in conversation' with Shadow Secretary of State for Communities and Local Government, Rt Hon. Hilary Benn MP.
The different format made this year's event more fascinating. Sir David and Hilary, leaders in the worlds of education and politics respectively, took to the stage in the University's magnificent Great Hall and debated key environment and planning issues that affect the local area and the country as a whole.
This year's MERL Annual Lecture was one of a series of events which have brought influential individuals in public life to the University of Reading. In recent times the University of Reading has welcomed high-profile figures including the Rt Hon David Miliband MP, Lord Adonis and the former Archbishop of Canterbury, Dr Rowan Williams.
Sir David Bell, Vice-Chancellor of the University of Reading, said: "This was a wonderful opportunity for the public to hear from and meet a leading figure in British politics. Hilary Benn has been at the forefront of issues such as global food security and supporting and developing communities. The evening was illuminating and very enjoyable."