Heritage Lottery Fund support means enhanced experience for University museum visitors


Release Date 04 February 2013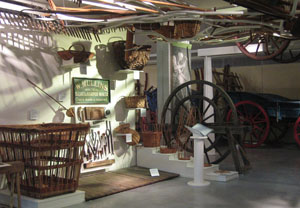 Visitors to the Museum of English Rural Life (MERL) can look forward to discovering new and exciting displays thanks to an award from the Heritage Lottery Fund (HLF).
MERL, which is owned and managed by the University of Reading, has received initial support* from HLF for a new project that aims to enhance the visitor experience at the museum. 'Our Country Lives' will redisplay the main galleries of the Museum, create improved reception and learning spaces, and offer more interactive activities and handling opportunities for visitors.
The project will also mean that people can discover even more of the treasures in MERL's nationally important object and archive collections which comprise over 1m items, ranging from pamphlets to large farm machinery.
Development funding of £147,800 has been awarded, as part of HLF's initial support, to help MERL progress their plans to apply for a full grant at a later date. The new galleries are due to open in 2015.
Kate Arnold-Forster, Director of MERL, said: "MERL is already a popular attraction but 'Our Country Lives' will make the Museum an even more exciting and enjoyable place to visit. Our aim is to make contemporary countryside issues come alive for urban dwellers and audiences of all ages, as well as develop innovative ways to explain and illuminate the stories and experiences of past rural life in relevant and engaging ways. An ambitious programme of learning events and activities will accompany the new displays.
"The project will also provide new opportunities for volunteers, from supporting the moving and redisplay of collections to working on new storylines for the galleries that engage both rural and urban communities in their rural heritage. Importantly the project will make connections with some of the rural communities who first donated objects to the Museum."
The Museum of English Rural Life (MERL) was established by the University of Reading in 1951 and opened to the public in 1955. As the first rural museum of its kind in England, MERL has played a pioneering role amongst a generation of social history museums in its approach to the collection, care and interpretation of rural life.
Sir David Bell, Vice-Chancellor of the University of Reading, said: "We are delighted to have received this award from the Heritage Lottery Fund to help us take forward our plans at MERL. The Museum of English Rural Life reflects the University's longstanding interest in agriculture and its contribution to our national life, both past and present. Not only that, the Museum relies heavily on volunteers of all ages, thus ensuring that it is closely connected to its local community."
MERL is housed in a listed building, originally designed by the noted Victorian architect, Alfred Waterhouse, as the home of Sir Alfred Palmer, the University of Reading's first Chancellor, local benefactor, and owner of the Reading firm, Huntley and Palmer's. The building was restored and extended in 2005, with the support of a major HLF award, to house the Museum's designated collections.
Explaining the importance of the HLF support, Stuart McLeod, said:"'Our Countryside Lives' will create a vastly improved visitor experience at MERL giving visitors a greater insight into the rural heritage of the local area. The museum's varied and fascinating collections will be better displayed and explained for more people to learn about and enjoy. HLF is pleased to be giving our initial support to these exciting plans and look forward seeing them progress."
ENDS
For further information, images and interviews, please contact: Alison Hilton, Marketing Officer at Museum of English Rural Life on 0118 378 5626.
Notes to editors
*A first-round pass/initial support means the project meets HLF criteria for funding and HLF believes the project has potential to deliver high-quality benefits and value for Lottery money. The application was in competition with other supportable projects, so a first-round pass is an endorsement of outline proposals. Having been awarded a first-round pass, the project now has up to two years to submit fully developed proposals to compete for a firm award. On occasion, an applicant with a first-round pass will also be awarded development funding towards the development of their scheme.
The Museum of English Rural Life, in Redlands Road, Reading, was founded by the University of Reading in 1951 to reflect and record the changing face of farming and the countryside. It houses designated collections of national importance that span the full range of objects, archives, photographs, film and books. Today, it forms part of the University's Museums and Collections Service. The Museum operates as a major resource and research centre for the history of food, farming and the countryside with links into the School of History and other academic departments at the University.
About the Heritage Lottery Fund
Using money raised through the National Lottery, the Heritage Lottery Fund (HLF) aims to make a lasting difference for heritage, people and communities across the UK and help build a resilient heritage economy. From museums, parks and historic places to archaeology, natural environment and cultural traditions, we invest in every part of our diverse heritage. HLF has supported more than 33,000 projects with more than £5bn across the UK. www.hlf.org.uk<http://www.hlf.org.uk>.