Our Commonwealth students meet the Vice-Chancellor
Release Date 07 February 2013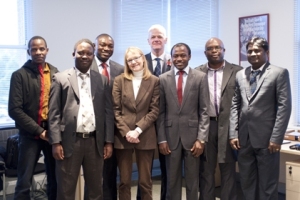 Commonwealth postgraduate students who have joined the university on the Commonwealth Scholarship programme met Sir David Bell, Vice Chancellor, University of Reading to reflect on their early experiences at Reading.
The students, who hail from India, Sri Lanka, Zambia, Ghana, Nigeria, Malawi, Sierra Leone and Botswana, are conducting research in areas of global importance, including the environment, social development, sustainable livelihoods and agriculture.
Ekemini Obok, from Nigeria, a Commonwealth Scholar and PhD student in Reading's School of Agriculture, Policy and Development, said: "I find studying at Reading a thoroughly enriching experience. It has given me the opportunity to learn about and take part in globally-significant research opportunities."
Urama Nathaniel Emeka, from Nigeria, a Commonwealth Scholar studying Economics and Business said: "I applied to Reading because of the quality of the staff, especially in the Department of Economics, as their research abilities are what I will need to boost my own career as an academic and as a young researcher."
Sir David Bell, Vice Chancellor, said: "I was delighted to meet our new Commonwealth Scholars. We welcomed our first international students in 1906, and we now have over 6,000 students from outside the UK. It's this international diversity that makes the University of Reading such a rich place to study and work, and each student brings unique experience and insight to their research."
The Commonwealth Scholarship and Fellowship Plan is one of the largest and most prestigious scholarship schemes for international study in the world. Since 1961, the University of Reading has welcomed 108 Commonwealth Scholars.