Public lecture: Modern finance in the Middle Ages
Release Date 12 February 2013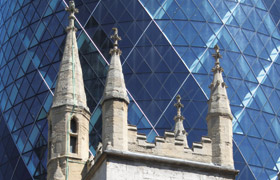 In the penultimate lecture of the series, Professor Adrian Bell, Head of the University's International Capital Market Association (ICMA) Centre, will discuss the parallels between financial crises today and those 800 years ago.
Ever since the financial crisis of 2007-8, finance has never been far from the front pages, but this is not new - we can find a credit crunch, sovereign default and rate rigging in medieval Europe.
Just like current investment bankers, medieval merchants were engaged in financial engineering, risky lending to governments and manipulation of exchange rates. This lecture will explore how medieval financial innovations have many parallels with recent events.
Watch a video trailer of the lecture >>>
University Public Lectures are held at 8pm in the Palmer Building on the University's Whiteknights campus. Lectures are free to attend and no ticket is required. Please visit the Public Lecture Series website for more details or contact the Events team on 0118 378 4313 or email events@reading.ac.uk.
If you're unable to make it on the day, the team will be tweeting live from the lecture - just follow @UniofReading on Twitter and use the hashtag #UoRLectures to make comments or ask questions. You can also get a flavour for previous lectures on Storify, including Dr Christina Hellmich's lecture 'Who is al-Qaeda?' - http://storify.com/UniofReading.
Follow us on Twitter | Like us on Facebook | Read our research blog 'The Forum'