Reading students make it to semi-final of UK business competition
Release Date 15 February 2013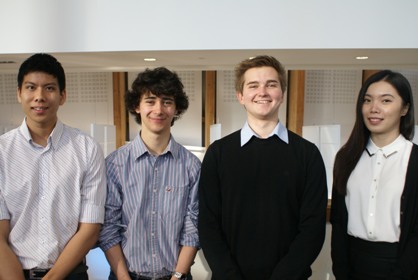 A team of students from the University of Reading has won a place in the semi-final of a prestigious nationwide business competition.
The four students, studying at the University's Henley Business School, are taking part in the Universities Business Challenge (UBC). The annual competition sees undergraduates from across the country working as a board of directors in a series of realistic, simulated companies, trying to make their business as successful as possible.
The team secured their place in the semi-finals by running a simulated food manufacturing company, making strategic weekly decisions on pricing, production and marketing.
Joe Doak, Head of Undergraduate Programmes in the Henley Business School said: "Taking part in the Challenge enhances the students' chances of employment. Students get the valuable opportunity of putting theory into practice and developing their team-working and leadership skills. They also improve their knowledge of the business world and experience making all the critical business decisions that affect a company's performance. They do all this within a pressured environment in which each team member's contribution is essential."
The Reading team comprised undergraduate students, Chris Himpich, Kadi Huang, Alexander Priest and Daniel Lim. The team will take part in the semi-finals in March at an event hosted by Proctor & Gamble, where they will compete with ten other university teams for a place in the grand-final. Two other teams from the University's Henley Business School also made it through five rounds of competition.
Alexander Priest, one of the winning students said: "the competition has improved my understanding of financial statements and has allowed me to put into practice skills that I am learning on my course. It has also improved my team working skills and overall understanding of running a business."
The University of Reading is committed to offering students a first-class experience and the best chance of a successful career after graduating. This year the University matched its 2011's graduate employability results which were the best for a decade, with 92% of our graduates describing themselves as being in work, voluntary or unpaid work or further study.