Reading professor wins Political History Book of the Year award
Release Date 18 February 2013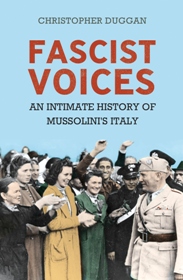 Professor Christopher Duggan's book, Fascist Voices: An Intimate History of Mussolini's Italy, has been named Political History Book of the Year at The Paddy Power and Total Politics Political Book Awards 2013.
Since its publication last year, the University of Reading academic's book has met with considerable critical acclaim. Times Higher Education magazine said of the book: "Fascist Voices takes up the challenge of understanding why the Duce and his regime appealed to so many Italians. The author's thoughtful tone and sensitive handling of his sources, which include diaries, police informers' reports and letters sent to Mussolini, enhance the book, and his clear prose makes it eminently readable."
The Financial Times called it an 'excellent new history of Italian Fascism', and the Times Literary Supplement said it was 'a fluid and absorbing book'. It was described in the London Review of Books as a 'magnificent new book, a pathbreaking study that everyone interested in Fascism, or in Italy past and present, should read,' while History Today said it was 'an elegantly written study that is the work of a historian at the height of his powers.'
Whilst writing Fascist Voices, Professor Duggan drew on the private diaries, letters and autobiographies of those who lived through the regime, to uncover how ordinary people experienced fascism. The book examines the support given to the regime by the majority of the Italian population, and details the personal relationships that millions of Italians had with Benito Mussolini, the dictator who occupied for many, an almost divine status. Duggan goes on to discuss why the 'cult of the Duce' still resonates in Italy today.
Professor Duggan, who joined the University of Reading in 1987, is a world-leading authority on the political, social and cultural history of modern Italy, and has written a number of influential books on many aspects of the subject. In 2008 he was honoured for his services to Italy when he was made a Commander of the Order of the Star of Italian Solidarity, a knighthood conferred by the President of the Republic of Italy.
The Paddy Power and Total Politics Political Book Awards recognise the very best in political writing and publishing. Lady Antonia Fraser presented the award to Professor Duggan, who is Head of the School of Literature and Languages at the University of Reading.