Generous graduates make phone fundraising campaign a success
Release Date 02 January 2013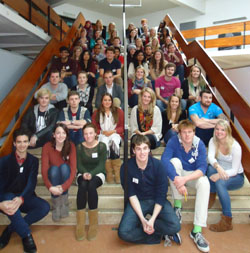 University of Reading graduates have generously donated over £200,000 through the Annual Fund telephone campaign which will provide crucial support for current and future students.
A team of 50 current students spent five weeks talking to graduates from the past sixty years, to compare notes on the University of Reading experience and to share their thoughts on what makes Reading one of the world's top 1% universities.
Almost 500 of those alumni spoken to also chose to make a donation to the Annual Fund to support a range of projects which will make the University of Reading an even better place to live and study.
The University of Reading's Annual Fund was established in 2004 to support current and future students at the University. To date, more than £3.4 million has been raised from over 6,000 donors, funding over 100 projects.
In the last year the Annual Fund has supported projects such as the Chemistry Ambassadors initiative which saw current students visit local schools to inspire the next generation of chemistry students, as well as a virtual careers fair which puts students in touch with a wider range of graduate employers than is possible with traditional face-to-face careers events. The Annual Fund also provides hundreds of financial grants to support students through their studies each year.
Barbara Bray (BSc Food Technology 1995) said: "I chose to make a donation to the Annual Fund because of the direct support it gives students who would otherwise struggle to afford a university degree. I really value the experience I had at Reading and during my career I have seen how Reading graduates stand out from the crowd.
"The conversations I have had with the student fundraisers have always been entertaining and brought back good memories of the time I spent at university and have given me the opportunity to offer advice and encouragement."
Shaun Horan, University of Reading Director of Campaigns, added: "We are lucky to have incredibly engaged and supportive alumni at Reading. They know the importance of their gifts in transforming the lives of students here and now, and the immediate impact that their donations have."
ENDS
The Annual Fund seeks support from new and existing donors each year. To make a gift, and to find out more about the projects the Annual Fund supports, please visit: www.reading.ac.uk/alumni/annualfund