2012's high rainfall impacts on the nutritional value of our crops
Release Date 09 January 2013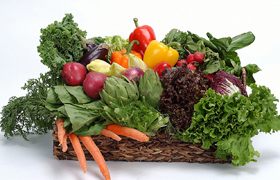 Professor Mike Gooding, Head of the School of Agriculture, Policy and Development at the University of Reading is a renowned expert on crop science. He spoke to BBC Radio 4's Farming Today programme (9 January 2013) on the subject of the impact of high rainfall in 2012 on nutrition in fruit and vegetables.
His colleague, Professor Richard Bennett also comments on the impact of high rainfall on food prices and the knock-on impact on public health.
Question: Professor Gooding, is it true that our vegetables will be less nutritious in this poor weather?
Professor Gooding: There are some direct effects of things like high rainfall and also low sunshine on the content of produce which would include vegetables, cereals and fruit and orchard crops in ways that can be picked up by consumers.
Q: So what effect is it having on our food? Are the nutritional values of our food being 'diluted'?
Professor Gooding: Dilution is a good phrase because the nutrients available to the plants might well be reduced. We do know that rainfall will often cause leaching and loss of nutrients from the soil and at certain times that will certainly reduce the amount of protein that ends up in the produce, and protein itself is related to a number of other nutrients that are important such as iron, copper and zinc. The other thing that you get, especially near to harvest, is reduced sugars and soluble carbohydrates in the product so the actual taste of the fruit and veg will also change as you reduce the balance of sugars and starch and other nutrients.
Q: Are organic vegetables more likely to be effected?
Professor Gooding: It's difficult to generalise and organic farmers tend to have more diverse systems. They are less able to respond to losses of nitrogen in the soil due to leaching (because of high rainfall), because a more conventional farmer might be able to manage the fertiliser from a bag/synthetic nutrients. It's more difficult for organic farmers to respond quickly in that way.
Q: What about the amount of vegetables we should be eating? Should we tell our children they need to eat 10 a day instead of 5 a day to make up for this loss of nutrients?
Professor Gooding: It's unlikely to have a dramatic effect. The poor weather had an effect on yield as well, so if yield goes down more than the nutrient, the concentration will actually go up.
The impact of poor weather on production, prices and public health - Richard Bennett, Professor of Agricultural Economics comments:
Poor weather also disrupts agricultural production and the availability of produce with associated price rises in food stores. This means that a healthy diet becomes more expensive and less accessible especially for those on lower incomes. For example, some fruit and veg prices in supermarkets have shown some substantial price increases compared to last year. Moreover, increased grain prices impact greatly on the costs of livestock production and hence of meat etc in the supermarket - especially pork and chicken where feed costs are around 50% and 60% of total costs respectively.
---
The story was also picked up by a number of other media outlets and Professor Gooding appeared on:
BBC News TV channel
BBC South Today
BBC Radio 2 - Jeremy Vine Show
Bulletins on BBC Radio 4 and 5