Celebrating Berkshire healthcare research collaborations
Release Date 14 January 2013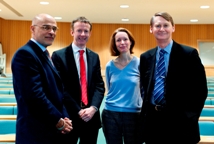 Celebrating collaborative healthcare research across Berkshire was the subject of a major conference, which took place at the University of Reading on 11 January.
Healthcare professionals and academic researchers gathered together to share best practice, find out more about the latest research and celebrate some of the effective research collaboration which is bringing benefits to healthcare users in Berkshire.
The conference was organised by Berkshire Healthcare NHS Foundation Trust, Royal Berkshire NHS Foundation Trust, Heatherwood and Wexham Park Hospitals NHS Foundation Trust and the University of Reading.
High profile speakers such as Dr Jonathan Sheffield OBE, Chief Executive of the National Institute for Health Research and Mr Simon Denegri, National Director of INVOLVE highlighted the value and impact of clinical research and the importance of public involvement in research for patient benefit.
Professor Richard Ellis, Dean of the Faculty of Life Sciences at the University of Reading, said: "We are delighted to welcome so many colleagues from local and regional healthcare providers to the University. Through the provision of training for healthcare professionals in areas such as pharmacy or speech and language therapy as well as wide-ranging research in psychology, nutrition and other areas, often in collaboration with regional NHS Trusts, the University of Reading is proud to make a strong contribution to health care provision in the region. "
Mrs Valerie Woods, Senior Manager, Thames Valley Comprehensive Local Research Network on behalf of the NHS Trusts, said: "There is a national drive to deliver high-quality clinical research, so that patients can benefit from new and better treatments. In Thames Valley we are committed to this vision by continuing to develop our opportunities for collaboration and delivering world class research which contributes to improving the care and treatments we deliver to patients and the public."
The conference provided opportunities for healthcare professionals and academics researching in the field to hear more about on-going research projects, update their knowledge on securing ethical approach for research, receive the latest guidance on participating in NHS-collaborative studies and find out more about working with industry.
Speakers at the forefront of clinical research engaged the audience with details of pioneering studies ranging from glucose monitoring, instruments for assessing the cognitive delay in infants, childhood anxiety disorders, dementia and emergency medicine research. Examples of excellent research collaboration showcased include:-
Dr Graham Schafer from the School of Psychology & Clinical Language Sciences at the University of Reading presented on the ERIC (Early Report by Infant Caregivers) project, a three-year project in collaboration with Royal Berkshire NHS Foundation Trust, designed to create a tool to help parents or carers identify young children who might be at risk of developmental delay because of low birth weight, prematurity, or difficulties at the time of the birth.
Dr Liza Keating, Consultant in Intensive Care and Emergency Medicine delivered a presentation on the challenges of conducting research in an emergency environment. There are currently a number of active studies ongoing at the Royal Berkshire Foundation Trust, including the AHEAD study which focuses on managing anti-coagulated patients who suffer head injury, the PARAMEDIC study involves a randomised assessment of a Mechanical Compression Device for patients experiencing cardiac arrest and the Kiosk Injury Surveillance System (KISS study) which examines whether injury data entered by patients themselves using computer kiosks in waiting rooms of Emergency Departments is of similar quality to that obtained by hospital staff.
Dr Cathy Creswell outlined the latest research on childhood anxiety disorders conducted in the Department of Psychology at the University as part of the Berkshire Healthcare Foundation Trust's Child and Adolescent Mental Health Services (CAMHS) Anxiety and Depression Pathway, which covers children from 0-18 years with anxiety disorders and depression.