Award-winning director and University of Reading graduate returns to talk about his latest film
Release Date 15 January 2013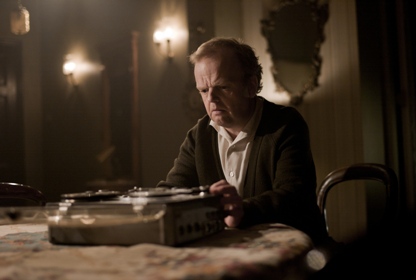 Acclaimed film director, Peter Strickland, returns to the University this evening for a screening of his award-winning film, Berberian Sound Studio, 15 years after graduating from Reading. The screening at the Reading Film Theatre (RFT) will be followed by a Q&A session.
University of Reading fine art graduate, and past RFT volunteer, Strickland was described by The Guardian as 'a key British film-maker of his generation'.
RFT co-ordinator, Amrit Maghera-Johal said: "We are thrilled that Peter has taken the time to come back to Reading to talk about his film which he wrote and directed. This is a brilliant opportunity for members of the audience to ask the director himself about the making of the film, his choice of subject matter and his motivation for writing it."
Berberian Sound Studio scooped the biggest haul of trophies at the 15th British Independent Film Awards in 2012. It won four awards including Best Director for Peter Strickland and Best Actor for Toby Jones. It also won Best Achievement in Production and Best Technical Achievement for the work of Joakim Sundstom and Stevie Haywood on the film's sound design.
The film is about a sound effects expert who is dispatched to an Italian film studio to work with a legendary horror director. This is a thriller where the horror and violence are never explicitly shown, but sound is used to create a chilling and un-nerving effect on the audience. The Guardian described it as 'a psycho-metaphysical implosion of anxiety, with strange-tasting traces of black comedy and movie-buff riffs. It is seriously weird and seriously good.'
Reading Film Theatre is organised and run by an enthusiastic group of volunteer film-enthusiasts. It is a registered charity which aims to bring art-house, world and foreign language films to a Reading audience.
RFT has launched a fundraising campaign called Keep Our Image Moving to purchase new digital equipment it needs to maintain its eclectic and varied programme of screenings.
Berberian Sound Studio (15)
Tuesday 15 January 2013 - 8.00pm-10.15pm, Palmer Building, Whiteknights campus.
UK 2012 in English and in Italian with subtitles Directed by Peter Strickland, with Toby Jones, Cosimo Fusco, Antonio Mancino, Fatma Mohamed, Salvatore Li Causi. (92 minutes)
See www.readingfilmtheatre.co.uk or phone 0118 378 7151 to purchase tickets for Berberian Sound Studio or other films this season or for information on how you can support RFT.