Public lecture: Who is al-Qaeda? The future of the 'Islamist threat'
Release Date 25 January 2013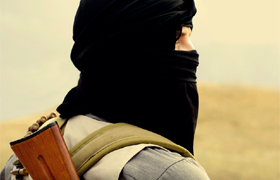 Is al-Qaeda a rigidly structured organisation, a global network of semi-independent cells, or simply an idea whose time has come? Are countries like Yemen and Syria to become the new Afghanistan - and do we really need to worry about the 'Islamist threat'?
As one of the world's leading authorities on al-Qaeda, Dr Christina Hellmich, from the University's Department of Politics and International Relations, will be addressing these questions in her public lecture on Wednesday 30 January.
She said: "Since September 11 2001, al-Qaeda has come to embody the new enigmatic face of terrorism, dominating discussions of national and international security. Yet in spite of this attention, conflicting assumptions about the group abound."
During the recent hostage crisis in Algeria, Christina provided expert comment for a range of national media, including a piece for the Guardian Algeria: Islamist threat to Europe is overstated and an appearance on international news channel Al Jazeera.
If you're unable to make it on the day, the team will be tweeting live from the lecture - just follow @UniofReading on Twitter and use the hashtag #UoRLectures to make comments or ask questions. You can also get a flavour for previous lectures on Storify http://storify.com/UniofReading
University Public Lectures are held at 8pm in the Palmer Building on the University's Whiteknights campus. Lectures are free to attend and no ticket is required. Please visit the Public Lecture Series website for more details or contact the Events team on 0118 378 4313 or email events@reading.ac.uk.
All the talks in the series are given by researchers eminent in their field and in a manner that is easily understood by all. They offer a unique opportunity to learn about the cutting-edge research, teaching and people that make the University of Reading a world-class institution.
Follow us on Twitter | Like us on Facebook | Read our research blog 'The Forum'