University of Reading application numbers increase once again
Release Date 30 January 2013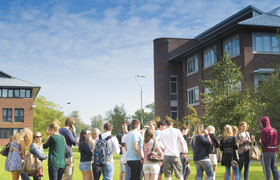 Following a record increase in undergraduate applications to the University of Reading in 2012, overall applications are up almost 5% on last year compared to the sector average of 3.5%.
The University is performing strongly, following an overall increase in applications of 10% in 2012, and is consistently seeing increases in applications despite the recent changes in higher education funding and fees.
By 15 January 2013, the University of Reading had received over 20,000 applications for places on undergraduate courses at a rate of almost seven applications per place. More than 18,000 home and EU students have applied to Reading, along with more than 2,000 international students.
Head of Admissions, Dr Christina Edgar, said: "We are delighted that we are seeing a year on year increase in the popularity of the University of Reading. With the calibre of applications for 2013 entry, many of our prospective students are predicted to achieve ABB or above.
"Successful students joining Reading this autumn will be joining a university ranked among the world's top 1% with a strong reputation for both research and teaching and consistently high scores in the National Student Survey. We provide access to placement opportunities on all undergraduate programmes and are known for our strong, supportive University community and beautiful campus environment."
Those students who put Reading as their firm choice and apply for accommodation by 1 August will be guaranteed a single study bedroom in University Halls. Four new halls have opened on the main University Whiteknights campus in the last two years.
View photos of our student accommodation >>>
The University organises a number of central and departmental Visit Days for offer holders, which are a great way to meet teaching staff, find out about their research interests, course modules and the facilities in the department and wider university. The next Visit Day is Saturday 2 March.
In the past few years, the University has invested over £400 million in new state-of-the-art teaching and research facilities on campus, including the Hopkins Building - labs and teaching space for pharmacy and cardiovascular research, the new Chemical Analysis Facility, the Minghella Building for the Department of Film, Theatre and TV, and the architectural splendour of the Henley Business School.
View photos of our outstanding facilities, new catering outlets and the beautiful Whiteknights campus >>>
ENDS
Notes to editors:
University of Reading applications 2013/14:
Overall applications up 4.6%
Home applications up 1.9%
EU (non-UK) applications up 2.8%
International applications up 35%