3,500 students celebrate graduation this summer
Release Date 02 July 2013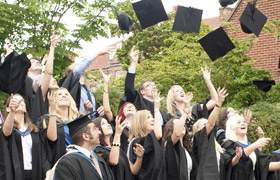 Practical information about this year's graduation ceremonies >>>
Watch graduation live online! >>> [from Wednesday 3 July]
This week, nearly 3,500 students will graduate from the University of Reading. Eighteen ceremonies will be held on Wednesday, Thursday and Friday in the University's magnificent Great Hall on the historic London Road campus.
Graduates can enjoy the celebrations even more in the knowledge that studying at Reading has provided them with a great start to the next stage of their lives. This year, 92% of University of Reading's most recent graduates are in work or further study. Of those who have pursued full-time employment, 75% are in professional or managerial positions six months after graduating.
Vice-Chancellor of the University of Reading, Sir David Bell said: "The University is extremely proud of all its graduates across disciplines as diverse as classics, construction management, English literature, law, biological sciences, food and nutritional sciences, agriculture, and archaeology, to name but a few.
"Many of our students have done amazing things in their time at the University, from volunteering in over 40 schools to working with the NHS to design projects to help dementia patients. My congratulations go to all who are graduating over the coming days."
Honorary degree 2013
On Wednesday 3 July Paul Lindley, CEO and Founder of Ella's Kitchen Limited, will receive an honorary degree. Ella's Kitchen is an organic baby food manufacturer based in Henley-on-Thames that has achieved phenomenal growth in just seven years; by mid-2011 they had a 14% market share of the UK baby food sector, making it one of the fastest growing companies in the UK. The University has worked with Ella's Kitchen on two Knowledge Transfer Projects looking at the psychology of their consumers and investigating the raw materials they use in their products. Ella's Kitchen has been sold to US food giant Hain Celestial this year. Find out about our Knowledge Transfer Centre >>>
Alumnus of the year 2013
On Thursday 4 July BBC Radio 1 film critic and Reading graduate Rhianna Dillon will receive the Alumnus of the year award 2013. The 'Alumnus of the Year' Award was established in 2008 to recognise the outstanding achievements of individuals who have graduated from the University of Reading. Rhianna graduated from the University of Reading in 2011 with a BA in English and Film & Theatre. She started working for Radio 1 as a film critic in her final year at Reading and her reviews are now heard by over five million people.