New climate and environment experts to help fight global problems
Release Date 03 July 2013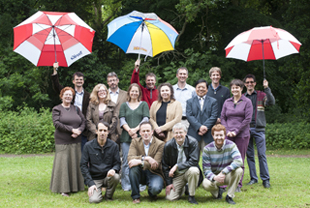 A new cohort of climate and environment experts have joined the University of Reading as part of a £50 million investment programme to further knowledge in research areas of critical global importance.
The 28 appointments, recruited over the last 12 months, build on Reading's position as one of the leading centres for the study of climate, meteorology and the environment, including through the Walker Institute for Climate System Research. Reading's outstanding reputation in this area was recently recognised by HM The Queen in her award of a prestigious Regius Professorship in Meteorology and Climate Science, a position that is currently being advertised.
Last year the University of Reading announced it was to invest £50m in 50 new academic posts through its Academic Investment Project (AIP). The AIP is strengthening the University's already renowned research in areas such as climate change, sustainable buildings and environments, food security and healthy ageing, to create world-leading research groupings.

Professor Christine Williams, University Pro-Vice-Chancellor for Research and Innovation, said: "We are delighted to welcome our new group of climate and environment experts who join an institution home to a world leading Department of Meteorology and top climate scientists. Tackling global problems such as climate change means recruiting the very best scientific staff. Our new cohort complement the outstanding researchers we have in this area and strengthen our ability to fight some of the world's most pressing issues."
Professor Sandy Harrison, a world expert on past climate change who has moved to Reading from Macquarie University in Australia, said: "I am excited to join the team in Reading - there is a unique breadth of expertise here that will allow us to take a fresh look at the long-term dynamics of climate change and the history of human-environment interactions. It's great to be joining such a vibrant and dynamic community, and I am especially looking forward to developing plans for Reading's new Centre for Past Climate Change at Reading.
The AIP builds on Reading's reputation as one of the strongest research-led universities in the UK. Excellence with impact is an embedded part of the ethos of the University and this new investment project will have global reach through research and teaching.
The Vice Chancellor, Sir David Bell, said: "The establishment of these new research posts will help Reading build on its reputation as one the strongest research-led universities in the UK and provide a platform for researchers to develop solutions to problems that affect the quality of life and sustainability of our planet."
The 28 new members of staff joined the University's Department of Meteorology (15), the Department of Mathematics and Statistics (5), the School of Construction Management and Engineering (4), and the School of Human and Environmental Sciences (5, including one joint appointment with Meteorology).
The 50 new academics posts across all subject areas of the AIP are due to be filled by September 2013.
ENDS
List of academic staff in Climate and Environmental Sciences appointed under the Academic Investment Project