University of Reading honours BBC Radio 1 film critic
Release Date 04 July 2013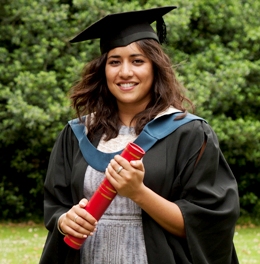 The University of Reading is delighted to announce that BBC Radio 1 film critic Rhianna Dhillon has received the 2013 Alumnus of the Year Award.
The Alumnus of the Year Award was established in 2008 to recognise the outstanding achievements of individuals who have graduated from Reading. Rhianna graduated in 2011 with a BA in English and Film & Theatre and began her starring role with Radio 1 during her final year. She received her award as part of the University's summer graduation ceremony, in which 3,500 new graduates are rewarded for their hard work by officially receiving their degrees.
Rhianna was discovered after attending a Radio 1 Movies Team visit to the University of Reading and immediately impressed with her knowledge of film and her bright personality. She later took part in a rigorous piloting process before landing the job. Rhianna's reviews are now heard by over five million people.
After receiving her award, Rhianna, who is 24 and originally from Brighton, said: "I am ecstatic - really happy. This is fantastic. I was not expecting anything like this. Everyone has been so lovely - I've been really spoilt.
"I'm still quite stunned and it's so lovely to have my all my friends and family here."
Rhianna has been working for Radio 1 and 1xtra for nearly two years. She adores her job which has allowed her to rub shoulders with some of Hollywood's biggest stars and says that studying at Reading gave her the skills and confidence to succeed.
"I'm having a fantastic time," Rhianna added. "Even the busiest of weeks are only hectic because I'm interviewing actors and having to see their films beforehand, so nothing to complain about!
"The support from the University's staff was fantastic and being able to talk freely in seminars was a great boost to my confidence. My film tutors provided me with a wealth of knowledge about film and the analysis skills which I use at Radio 1 and I am incredibly grateful for my time there."
Rhianna was presented for her award by University of Reading Professor in Theatre and Performance, and former personal tutor, Lib Taylor.
Professor Taylor said: "As a student, Rhianna was talented, lively and enthusiastic. Now she is expertly communicating the wide experience of cinema that she gained at Reading, and using her training in analysis and argument, to connect with young people effectively at a national level.
"Rhianna is an excellent example to all our graduates of the creativity, energy, enthusiasm and dedication that we foster here at Reading. Rhianna has also supported our current students by joining the Department of Film, Theatre & Television's thriving mentor scheme. She gives her time and energy very generously, and her mentee gets the fantastic opportunity to go into Radio 1 and shadow Rhianna. Rhianna is a worthy recipient of the award of the 2013 Alumnus of the Year Award."
ENDS
For more details please contact Pete Castle or James Barr at the University of Reading press office on 0118 378 7391 or p.castle@reading.ac.uk.
Notes to editors:
The University of Reading is ranked among the top 1% of universities in the world (THE World University Rankings). Its Department of Film, Theatre & Television is an innovative department where students learn about these three major cultural forms through theory and practice. It is housed in the purpose-built, £11m Minghella Building, which was opened by Oscar-winning film producer Lord (David) Puttnam in 2012. The building includes three theatres, a cinema, video and audio editing suites, and fully-equipped TV studio.